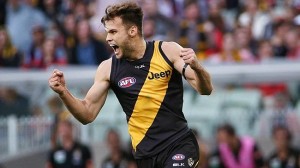 Debut games are not only for the player.
While Ben Lennon, the 18-year-old Tiger, waited nervously on the subs bench, his family waited nervously in the MCG grandstands for the moment young Ben had been dreaming of for a very long time.
The whole family was there — dad Stephen, 50, mum Lesley 48, and sisters Kara 24, and Grace 22.
Grace, the budding professional golfer, and Kara, sporting an AFL-issue picture of Ben on her jacket, couldn't stop smiling. "He gave it to me," Kara said with a smile.
The pair told stories about kicking the footy with their younger brother in the backyard of their Macleod home and although they said that they always believed he would play AFL, with these two you couldn't not believe them.
They were beaming for their brother.
So were mum and dad.
Lesley found out on Thursday Ben was playing and she fired off text messages to the family. "He's playing! X" it read. Kara responded with "Yay.''
Lesley said she tried to keep it low-key.
"I tried to keep the week as normal as possible,'' he said. "It isn't normal, but it could get you ahead of yourself.
"This morning was pretty quiet. He got up before Steve and I did, got himself some breakfast and then he went back upstairs for some quiet time.
"We just let him do his own thing and he kept to himself. We didn't want to talk too much about football.''
The Lennon family was guest of the Tigers at the official president's lunch. Earlier, they were in the rooms for the jumper presentation.
Originally, triple Brownlow Medallist Ian Stewart had the honours, but he declined, leaving former Tigers player Graeme Bond to fulfil the deed.
"What he had to say was really emotional, just wonderful words, just to remember the day, remember that you're representing yourself and the club and the family, and that after today your life will be different,'' she said.
For Lesley, it was too. "There were tears,'' she said. To see her son on the rooms, being welcomed to the team, had her heart swelling.
"I'm really, really proud. It hasn't been easy and unless you have lived with someone going through that, you don't really know of the sacrifices they have to make, especially at such a young age.
"I know it won't be an easy ride, there will be some ups and downs, and he knows he has a close family and that when there's down we'll be there to pick him up, and will enjoy the highs with him.
"We're just happy he's got this far and we're happy he's enjoying the journey.''
It was half-time and with the Tigers leading by three points, Lesley predicted an early substitution in the third quarter. She was right. "And I'm thinking they will play him up forward.'' Right again.
Wearing No. 35, Ben replaced ruckman Shaun Hampson and quickly took a contested mark and kicked a goal with his first kick from close to the 50m mark. He was swamped by his teammates.
In a difficult game, he would finish with eight touches, a second goal in the final quarter, a point and three marks. It was a debut of much promise.
As the Tigers trudged from the ground and the Melbourne theme song echoed through the grandstands, Steve and Lesley could not take their eyes off their boy.
They were pleased for their son, but disappointed for the team, which was an awkward feeling.
Steve, who was a Carlton supporter, had the Tigers scarf around the neck.
"I'm very proud of him,'' he said. "Just to be on the ground is special enough but to get a kick and goal first up was unbelievable really.''
How did you react?
Lesley: "I screamed, I didn't hold it back."
Steve: "It's disappointing they didn't win the game."
Dad offered a journey of memories. "To chart his progress, and there's lot of other kids out there for Melbourne as well … they've all grown up together, they've played in rep sides together and to think back three years ago and they were playing under-16s,'' he said.
"And now they're on the MCG today in front of 60,000 people … it's unbelievable.''
There were moments for everyone and dad was the same as mum. "How proud can you be when you have a son playing on the MCG? He's worked hard to get where he is, he's a wonderful kid and we're immensely proud of him,'' he
said.
With that, they were off to the rooms, just like they have done since Ben started playing at age six.