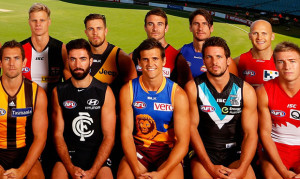 Jed Adcock has some pretty big shoes to fill after he was named as only the third sole Captain in the Brisbane Lions' merged history over the off-season – following in the esteemed footsteps of Michael Voss and Jonathan Brown.
And while Adcock probably doesn't boast the same profile as Voss or Brown, he has all the necessary attributes to be equally effective as an on-field leader.
In fact Senior Coach Justin Leppitsch, who played alongside some great Captains in Voss and Roger Merrett, says Adcock's on-field leadership is among the "best he's seen".
"Obviously he's going to be a different Captain than Browny," Leppitsch tol SEN radio in Melbourne on Tuesday.
"Jed's obviously a very good player, but he's also a very smart thinker of the game and a very good organiser on the field.
"Why he got the nod as Captain was because of his on-field leadership and ability to organise others. He's one of the best I've seen at that.
"They're the things the public probably don't get to see, but it's something that we really appreciate and value."
Adcock represented the Club for the first time as sole skipper at 2014 AFL Season Launch in Adelaide on Tuesday.
Source: http://www.lions.com.au/news/2014-03-06/adcock-a-worthy-leader