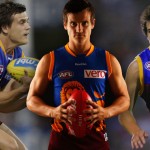 Only one of Jed Adcock's 149 senior AFL matches has been played when it counts the most – in September.
And in the lead-up to his 150th match, Adcock has revealed his desire to help guide the Brisbane Lions back to the AFL Finals.
"We're competitive beasts and we want to win football games and win premierships," Adcock said in an exclusive interview with LIONS TV.
"I want to get back to Finals. I've experienced it once and nothing means more now than to play Finals footy."
Adcock would have been forgiven for thinking that Finals were going to be a regular occurrence when he was first drafted to the Club at the end of 2003.
At the time, the Lions had just secured an historic hat-trick of Premiership, and would go on to play in a fourth successive AFL Grand Final the following year.
"In my first year we made the Grand Final against Port Adelaide and lost," Adcock said.
"Since that year, this Club has played in two Finals games, and I've only played in one Finals game really in eight years."
Adcock's sole Finals game came in the Lions' 2009 Semi Final loss to the Western Bulldogs at the MCG.
A fractured knee had kept him sidelined for the three months prior, meaning he was forced to watch the team's stunning come-from-behind win over Carlton in the previous week's Elimination Final from the stands.
His Finals history pales in comparison to someone like Geelong Captain Joel Selwood, who has played in 16 Finals and has won three flags in approximately the same number of games (143).
On the other hand, he could count himself lucky to have at least had a taste of Finals action.
Just ask former Richmond skipper Chris Newman, who is still searching for that elusive Finals game after 221 games with the Tigers.
Adcock's passion to return to the biggest stage in the AFL is as much for the Club he has devoted the past 10 years of his life to, as it is for himself.
A consummate team-man, the 27-year-old took some time out earlier this week to reflect on what it meant to notch up 150 senior games with the Lions.
"It means a lot. If you talk about milestones, then 150 and 10 years' service qualifies you for Life Membership of the Brisbane Lions," Adcock said.
"I've been very fortunate with this footy Club. I guess when I came I probably thought I wasn't going to get a game. So to play 150 is a huge honour. Hopefully there's another…I'd like to say 150, but's let's say 50 to get to 200 first."
Adcock currently sits 18th on the list for most games played with the Brisbane Lions post-merger, having passed former premiership players Brad Scott (146 games) and Robert Copeland (143 games) earlier this year.
By season's end, he could very well have passed Alastair Lynch (154 games), Craig McRae (156 games) and Chris Scott (160 games).
He can also look forward to joining one of Club's most exclusive groups, when he is inducted as a Life Member at the 2013 Club Champion dinner.