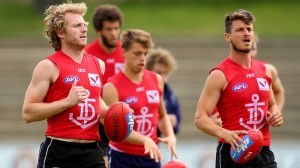 David Mundy thought the chance to play grand finals came around every year.
It certainly seemed that way when he was a kid knocking around country Victoria, although it wasn't until he was 17 and playing in the Murray Bushrangers that he got to be at the MCG to play the curtain raiser on the big day.
Since being drafted by Fremantle in 2003, the midfielder has had to make do with watching others play in the biggest game of the year.
Now Mundy finally gets his chance.
"This is what we play football for and what you dream of as a little kid," Mundy said this week. "I'm very excited and over the moon and the family is very proud of me. Hopefully we can put in a good showing."
Mundy is prepared for a huge battle with the Hawks and admits the Dockers' opponent has earned the right to be favourite.
"They have been the greatest side in the competition for the last two years," he said. "They were stung by a defeat in the grand final last year and gone on to bigger and better things this year.
"It doesn't get any easier — coming into Geelong was a big challenge and then jump that hurdle, and then Sydney and then another massive challenge, these are the games we want to play in, we understand the challenge and we understand what it is going to take."
Having grown up in Victoria, Mundy always had the attraction of home, but he is a loyal Dockers man and says the club gave him opportunities he may not have got elsewhere.
"It was the biggest decision of my life, when I first came over here I didn't really have a choice," he said. "My last contract (2010) was my choice, so it was obviously a big decision, and there were heavy issues involved in weighing up the decision.
"Family ties are a strong motivator in my life and the pull to go home was really strong. At the end of the day I was happy with where I was at, and where we were at, and where my football was going. I decided to stay."
Mundy believes he would have had to change his role and move out of the midfield if he was to go home.
"I had a pretty good year in 2010 in the midfield and felt that was where I wanted to play," he said. "Mine and my manager and my family's feeling was if I was going to come back to Vic, I was probably going to be pushed back to halfback. That was one of the factors why I wanted to continue where I was.
"Fremantle had given me my chance and it would have been hard to turn my back on them, they have given me everything that I needed to become an AFL footballer and to become quite good at it.
"The group they have been building, the 2008 draft group that has been talked about quite a lot, started to mature and play some good footy in 2010. We played finals and to get some more football in those guys meant we were only going to get better and improve. The future success that I saw was hard to knock back."