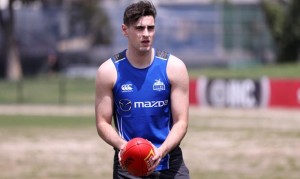 FORGOTTEN North Melbourne youngster Paul Ahern hopes to be a role model for future draftees who may be dealt serious injury setbacks.
The untried former GWS Giants No.7 draft pick, who ruptured his anterior cruciate ligament twice in five months in 2016 before a trade to North Melbourne, will use AFLX and JLT Series to stamp his Round 1 credentials.
"I want to try and show people, no matter how big the setback, you can always get back and play some really good footy," Ahern told the Herald Sun. "If they have a setback like a knee or an ankle it's not the end of the world — if you work really hard in rehab you can really go places."
The Kangaroos were prepared to be patient, signing Ahern, now 21, knowing he would not play — at any level — in 2017, regardless of any fitness and physical gains. The mandated time off was designed to give Ahern peace of mind with his knee, to focus on rehabilitation, and "listen" to his body.
"No, it didn't really bother me at all, I just really wanted to get into my rehab," Ahern said. "It was a good thing, I didn't have to focus on trying to get back and playing games. "I could take my time and really focus on … working hard in the gym and fixing areas that needed improving strength wise."
Ahern has been in full training since November — 14 months after second reconstruction — without any knee issues. The 183cm midfielder, who last played for the Giants' reserves in 2015, could be trialled in the backline next month, with the Kangaroos desperate for rebound and polish up the ground.
The Kangaroos will again field one of — if not — the youngest teams in the competition, and Ahern is excited about the opportunity to be a "Shinboner" in 2018.
"The word 'rebuild' hasn't been used around here," a defiant Ahern said. "We (want to have) a really good season, obviously, we'd love to be there in September, but at the moment it's getting everyone ready for Round 1. "This year has been one of the most bonded teams I've been around, I think everyone enjoys coming to the club and working hard together. "I think if we can get a few wins it's going to be huge for us."