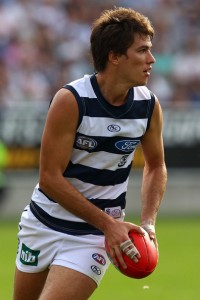 Andrew Mackie is a smart enough Cat to know the football crystal ball glows from any angle at this time of year. Yet with all that's happened at Geelong, he also knows there's cause for optimism that runs deeper than cliche.
"I always dream, that's just me," the 31-year-old said. "You look at the place now, we're on the verge of a season that's full of excitement.
"Speak to anyone this time of year, it's all pretty cliched, but we're lucky enough some players wanted to come into the joint and be part of it. We're thankful they wanted to, and really looking forward to what unfolds."
Entering his 14th AFL season, Mackie is no stranger to times of upbeat apprehension. Even another evolution at the Cattery – a missing chunk of Simonds Stadium that has forced the football department to operate out of makeshift headquarters – could be viewed as an omen. "We've won premierships out of tin sheds doing weights. Hopefully that's a good sign."
Mackie is taking nothing for granted, noting that summer's toil will have been wasted if a revamped Geelong can't shake the malaise of 2015, when even while winning games the Cats didn't meet their lofty expectations.
From afar the recruitment of Patrick Dangerfield, Lachie Henderson, Scott Selwood and Zac Smith seemingly vaults Geelong back into premiership contention, yet Mackie is interested only in load-sharing across the entire blue and white-hooped board.
"I'm very thankful as a 31-year-old sitting here that those guys wanted to come. Hopefully they can help us improve as a team, and along with the organic growth from within, I sit here really excited about what's ahead.
"But as I've said a million times before, I get nervous doing pre-season interviews, it can be a cliche. We've got a lot of work to do, but the coaching structure's been really solid, the coaches really have engaged with the players, it's a really good thing. It's great for the players – we're really clear about what we need to be doing and where we sit. That's all you can ask for."
Not that he hasn't found himself at times drawn moth-like to the flame of Dangerfield hype, admitting some of the former Crow's stoppage work in match simulation training has brought a smile to his face. He is confident the season's biggest recruit won't buckle under the weight of expectation.
"To be honest I didn't know him much, but he's been a breath of fresh air," Mackie said. "I really like the person that he is, the way he handles himself. I'm looking forward to playing footy with him. The three other guys have been exactly the same. I've found them really pleasant to be around."
He is likewise emboldened by the improvement from within, by what he sees in Josh Caddy, Cam Guthrie and Mitch Duncan, footballers entering their mid-20s whose games are rising apace with their age and experience. As much as Mackie values having Tom Lonergan and Corey Enright around, such relationships keep him young.
"Those three guys, I really enjoy hanging around with them. As a 31-year-old they're seven, eight years younger, but you know it's a good sign when there's no barriers."
Mackie is raring to go but knows the game can bite you at any time. Last year he hurt a quad a week before round one, did it properly playing when he shouldn't have in round two and missed another five weeks. It made for a frustrating time when the team wasn't playing well and he could do nothing to help.
Steve Johnson and James Kelly were front and centre as speculation whirred over how many 30-somethings the Cats would offer new contracts, but Mackie's name was never far from the conversation. He was always happy with where the process was at, and sees it as simply part of an unusual job.
"The hardest thing (with) the way a footy club works (is) when you're getting towards a certain age and the team isn't at a level where it wants to be. We have really high standards, ultimately you want to win a premiership every year. We were a fair way off it last year, so the changes are going to happen."
Through a nine-game stretch at the end of 2015 Mackie averaged 24 possessions and finished with a career-high 34 as Johnson, Kelly and Mathew Stokes were farewelled in the round 23 win over Adelaide. After 235 games, the three-time premiership defender and 2013 All-Australian is hellbent on improvement.
"I hate talking before (the season), you can talk anything up. But if I didn't think I could get better as a player I might as well have walked out last year. I'm striving to be better, and have the best season that I've ever had. Hopefully things work out."