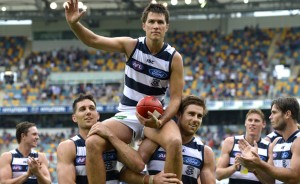 YOU don't have to tell Andrew Mackie the end of his career is closer than the beginning.
But for a man who talks like a realist, Geelong's veteran defender plays with a defiance that says he's not yet ready to go quietly.
Mackie, 32, is out of contract at season's end and is the second-oldest player at a club always eager to blood the next generation.
He and Joel Selwood, 28, will be the only two players still in blue and white hoops who will attend the 10-year reunion of Geelong's 2007 premiership team.
First, the reality.
"It has to keep evolving — a team and a list," Mackie said.
"All of it has to keep changing or you get caught out and there's probably some examples around the league at the minute.
"I've always had a footy brain in my head and I'm always thinking about what's best for the club. I've always got that in the back of my mind."
Now, the defiance.
"The environment we have down at Geelong this year has been really positive and one I'm thriving on it," he said.
"It's a great place to come to work, if you can call it that, and apply the trade we do.
"I think I've been able to keep trying to get better and you've got to have that mindset or work ethic. You've got to be open to being coached every week and be flexible enough to adapt to whatever the game needs."
Mackie is a survivor. The No.7 pick in the 2002 national draft, his first four seasons — as a skinny, inconsistent forward — had the jury out.
He was dropped for the 2010 finals series, but bounced back to be part of the 2011 flag. He was poor in the second half of last season, but has rediscovered his mojo this year.
And after 15 years at the club he's built a resume the envy of most — three premierships and an All-Australian guernsey.
"I've had my journey," Mackie said.
"The game has changed over 10 years, but I feel as a club we've been really coachable from when Chris Scott came in.
"He's got a really good philosophy on the game and in 2011 we won the premiership because we evolved.
"I suppose one of the things I've always tried to be is a really good person around the footy club and someone that makes the place better, and that's what I'll try to do until the day I walk out of the joint."
It's a long season, but that may not be happening any time soon.
Champion Data ranks Mackie as "elite" among all players for intercept possessions (6.8 per game) and "above average" for ranking points (88 per game), disposals (21.2) and rebound 50s (4).
Scott and his assistant coaches give Mackie a "job" each week and he's responded, beating Fremantle's Michael Walters in Round 1 and keeping Melbourne livewire Jeff Garlett and Hawthorn danger man Luke Breust goalless when he opposed them in Rounds 3 and 4.
A man who has played alongside Matthew Scarlett, Corey Enright, Tom Harley and Darren Milburn in one of the best defensive units the game has known, has seen Zach Tuohy, Cam Guthrie and Tom Stewart arrive in the Cats' back 50m this year.
A 2016 preliminary final loss to Sydney that exposed defensive faults was always going to prompt — wait for it — more evolution.
"There's no doubt that our backline and myself, we didn't get what we wanted last year and we got blown out of the water early in a final," Mackie said.
"We had to get better and there's no doubt I wasn't playing as good as I thought I could, for whatever reason."
Mackie plays his 263rd game today against Collingwood, but next year might as well be a world away.
"I'm keeping a really open mind about everything," Mackie said.
"I'm not thinking about things too much … I'm just trying to enjoy myself and you're able to do that knowing you're doing your bit.
"I try to really value the time that I will spend at the club and training and enjoying everyone's company. The footy will flow from there, whatever that may be.
"It's about being open with whatever I have left."