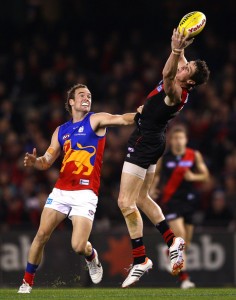 Is there anything that Jake Carlisle can't do? Or to be more precise, is there any Jake Carlisle act that won't be greeted with breathless applause? The kid can seriously play and is well and truly in line for All-Australian selection but the football world is currently an embarrassingly cloying parent and Jake Carlisle is its over-achieving child.
Even after being annihilated by Jarrad Waite in the first half of last Friday night's win against Carlton, Carlisle still managed to find his way at the top of the best players lists. After Tim Watson wrapped up his on-ground interviews with Essendon players following the win, you half-expected to see dressing room footage of him and the Seven crew
giving the young star a shoulder rub.
Carlisle's Bombers should be too good for the Suns, who are themselves in the unique position of appearing to be 'on a roll' despite only winning one of their last four games. They are definitely coming but it's hard to see this being the night they'll topple a genuine premiership contender away from home. If Carlisle is left in defence he will be leading a miserly brigade who will make it a tough night for the Suns' forwards