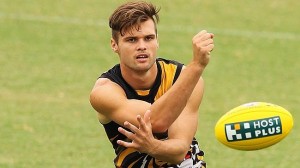 Richmond is hoping a role change for talented youngster Ben Lennon will fast-track his development in season 2015.
In his second season at the highest level, the 19-year-old is set to line up for the Tigers exclusively across half-back, where he can use his kicking skills and creativity to set up the play.
This summer, Lennon has been under the tutelage of new Richmond defensive coach Ben Rutten, and the Club's best running defenders, Bachar Houli and Chris Newman.
"I really like the half back role. I like watching the ball unfold in front of me, and being able to be attacking as well," Lennon told Roar Vision.
"It's a really good spot, but you need to be quite defensive as well.
"I've obviously still got a long way to go, but I'm really enjoying it.
Lennon was one of Richmond's brightest performers in the first pre-season match for 2015, against the Western Bulldogs, amassing 16 disposals.
"It was really good testing out what I'd learned over the summer in a pre-season game," he said.
"There was a few really good things, and a few things I need to keep working on.
"It was good to blow the cobwebs out."
At the end of his debut season in 2014, which yielded seven senior appearances, Lennon was booked in for hip surgery.
Despite missing a chunk of the pre-season, he has trained strongly since the Christmas break.
"I had a hairline fracture, which was obviously a bit more severe than what they first thought," Lennon said.
"I couldn't really do much for the first four weeks, and when I came back it was a lot of swimming and bike.
"Throughout that time I was working pretty closely with Chris Newman, which was really good from my development. I learnt a lot off him."