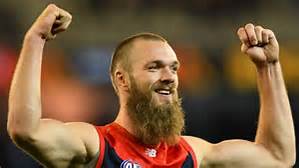 MAX Gawn says he's "put back on a few kilos", after he shed eight kilograms at the end of last season.
The 2016 All-Australian ruckman said he started pre-season "a bit too light" after he challenged himself to get as fit as he could in the off-season.
"It was something that I wanted to do over the break. I wanted to see how much weight I could lose and see how fit I could be, and see how ready I could be to train," he told melbournefc.com.au.
"There was some inspiration from a disappointing 2017 season and I managed to lose eight kilos, which was a bit more than I was expecting. But as I've got back, I've realised I can't be that light, so I've put on a couple since then.
"It was something that I could do while I was away, so it was pretty important for me to come back, looking in good shape."
The outstanding big man, who was sidelined with a hamstring injury from rounds four to 13 in 2017, said he was feeling the best he had felt in recent years.
"I've had four years of full pre-seasons in a row now. Theoretically, I should be at my fittest after doing all of these pre-seasons and hopefully it keeps me injury free for 2018," he said.
"Everyone is always feeling good in January, especially the middle of January. The first week of January is actually quite stressful, but the middle of January, usually everyone is flying.
"I'm feeling as good as I could be, ready for round one next week – if it was here, but we've still got another couple of months, so I'll try and keep this fitness up."