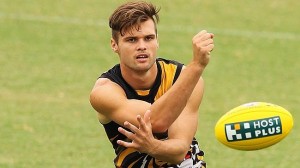 RICHMOND coach Damien Hardwick is usually the one dishing out the job to his charges, but he can expect his own heavy tag this week.
After a solid performance against St Kilda on Sunday, small forward Ben Lennon plans on pulling out all stops to ensure he holds his spot in the Tigers' outfit.
Lennon, 20, has been a fixture of Richmond's VFL side this year, but made his mark on Sunday with three goals and 15 disposals.
In the absence of Shane Edwards, who is out with a fracture in his leg, Lennon pounced on his opportunity.
"I think I'll have to knock on (Hardwick's) door," he told the Herald Sun.
"I'll definitely be trying to touch base with him throughout the week and trying and get on his good side."
Taken with a first-round pick in the 2013 draft, Lennon played seven games last year, starting as the sub on five of those occasions.
He's now featured twice this season, saying he has been working with assistant coach Mark Williams to make sure he doesn't waste his chances.
"Obviously I've been playing in the VFL and just trying to play well and push for a spot," he said.
"I'm always talking with Choco (Williams) about making your mark when you get your opportunity.
"Hopefully I went all right and can hold a spot from this week."
Hardwick isn't offering the young gun any guarantees, but says he was pleased with Sunday's showing from both Lennon and fellow youngster Matt McDonough.
And in a strong sign for 20-year-old Lennon, Hardwick's confident that there's plenty more where that came from.
"To kick three goals was terrific," he said.
"They're only going to get better. The difference between the game at VFL and AFL level is hard to describe these days. It's a completely different ball game as we know, and the speed of the game will take them a little bit of time to get used to.
"Whether we afford them another chance next week, we'd like to hope so, and hopefully they can build on that performance."
Saturday sees Richmond host Fremantle at the MCG, and while the ladder-leading Dockers might not have been on song in recent weeks, Lennon says the Tigers know they can't afford to stop for a quarter like they did against St Kilda.
"We can't take much out of their form lately, we've just got to take them on how many wins they've got," he said.
"We've got to be on from the start to the finish".