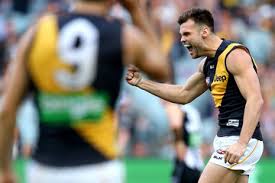 BEN Lennon will never forget his introduction into the AFL – and Mark Williams.
Training with Richmond as part of his AFL academy internship in 2013, the straight-shooting Williams didn't mince his words when assessing the Ivanhoe Grammar boy.
"Shave your beard off, you look like a d—head," Williams said.
And, according to Lennon, Williams hasn't lost any of his trademark directness.
"He's pretty cheeky, Choco. He'll always say what he thinks," Lennon said.
But as blunt and demanding as Williams can be, Lennon can't thank the development coach enough for his support over the past two years.
"He's helped me with my contested side of the game as well as marking contests and second efforts. He's always there on a Monday morning to go through vision," Lennon said.
After Round 22 last season, Lennon was dropped from Richmond's line-up following a quiet game against St Kilda.
Twelve months later, he's the Round 22 Rising Star nominee, thanks to a polished yet workmanlike display against Essendon.
Lennon has proved over the past seven weeks he could be a valuable member of the club's 2015 finals campaign.
"I've been thrown around a little bit in my two years at Richmond. But I was drafted as a half-forward, so it's been nice to play some senior footy there and show off what I can do," he said.
"If that means I get a spot in the finals, hopefully I can take it with both hands."
Lennon, taken with pick 12 in the 2013 draft, lingered in the VFL during the first half of this season.
But some wise words from Brett Deledio in a leadership meeting was the motivation Lennon needed to win his spot back.
"Brett told me he thought I had all the skills in the world, but I've just got to work harder," Lennons said.
"Since then I've tried really hard to run hard at training. I think that's translated into games and I'm starting to see the benefits of that now."
Lennon said the Tigers wouldn't be taking North Melbourne lightly in their pre-finals clash on Friday.
"The Roos are a pretty quick side, especially at Etihad. We've got to be very mindful of what they're capable of," he said.