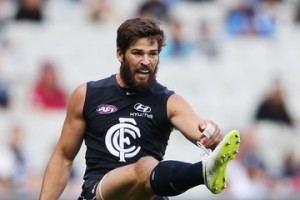 Carlton has moved to lock in key forward Levi Casboult, viewed as an increasingly valued talent
within the club and arguably the most improved player on the Blues' list in an otherwise highlight-sparse year.
While the vastly more established, but seemingly out of favour veteran Jarrad Waite is yet to win a senior recall following another VFL demotion three weeks ago, 24-year-old Casboult, a rookie draft recruit, has emerged as a future plank of the side's attack.
Andrew McKay, sharing CEO duties at Carlton while the search for Greg Swann's replacement continues, is set to meet Casboult's agent next week having sought a first formal discussion about the player's contract in recent days.
Both Waite, 31, one of the Blues most experienced and handsomely paid players, and Casboult, are due to come out of contract at the end of this season.
Last year, his first year under coach Mick Malthouse and second in the AFL, Casboult's longest uninterrupted run of senior games spanned rounds 10-15. Then, after missing the Blues elimination final victory over Richmond, he was brought in for the side's unsuccessful semi-final against Sydney.
Against the Swans on Saturday night, however, Casboult is not only set to play his 13th uninterrupted senior match this year, but has come to be seen a genuine forward pillar, and pinch-hitting ruckman, to be retained as a matter of priority.
Carlton's coaching and fitness team are understood to be increasingly impressed with Casboult, believing his physical attributes – particularly in endurance running and strength measurements – are comparable to those of Collingwood's Travis Cloke.
While Cloke is clearly an established star, and Casboult – poised to notch his 30th AFL game this weekend – is a relative greenhorn, those within the Blues camp who have first-hand understanding of Cloke's physical capabilities have noted parallels between the two footballers.
Malthouse, who took over as coach of Carlton in 2013 after leaving Collingwood, is said to have been particularly praiseworthy of Casboult's progress this year. Casboult has enjoyed two four-goal games in 2014, most recently last weekend.
A Carlton supporter from childhood, Casboult has already indicated publicly his desire to remain a Blue, and his manager, Anthony McConville, confirmed on Friday he would have a first meeting with the club next week to discuss the matter.
"My view is that definitely his stocks have risen," McConville said. McConville is unprepared to talk about the contract length he will be seeking for Casboult.
After some delay, the Blues hierarchy, under radical renovation mid season, recently ratified a five-year deal for Bryce Gibbs. And while the playing future of champion Chris Judd is unclear – comments from coach Malthouse this week suggested the club is more than braced for him to retire in coming weeks – other senior leaders Kade Simpson, Marc Murphy and Michael Jamison are secured contractually.
Troy Menzel is another young talent Carlton is working to re-sign. Talks concerning the 19-year-old – who is understood to have indicated privately interest in playing with his brother Daniel at Geelong – are progressing.
It's understood Carlton has firmly indicated to Menzel, who was last week's Rising Star nominee, its strong preference to retain him. Only this week, following his nomination, Menzel said: "We're going to get something done in coming weeks. I'll definitely stay."
Read more: http://www.theage.com.au/afl/afl-news/blues-make-determined-move-to-secure-casboult-20140711-zt4vy.html#ixzz37mhus6oO