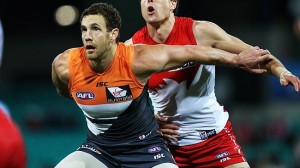 AUSTRALIA is built on families like the Mumfords from towns like Bunyip.
Glenn Mumford is a motor mechanic who finds time to run the local CFA maintenance department when he isn't supporting the Bunyip Bulldogs.
Wife Janet has been his rock, raising their three children Shane, 29, Deanna, 28, and Ebony, 26.
Deanna has cerebral palsy, which means she has taken plenty of care and attention, while emerging AIS boxer Ebony is also back playing local netball at Bunyip.
Bunyip, a town with a population of 2232 just more than 80km southeast of Melbourne, is the centrepiece of their lives.
A couple of pubs, great sporting facilities, a real country vibe, and the perfect place to raise a boisterous family of sporting junkies.
On Saturday, Glenn and Janet's son, Shane, will return to Geelong's Simonds Stadium — the club which gave him his start — as a luminous star in the AFL galaxy.
AFL statistics show no player has a greater influence in whether his team wins or loses on any given week than Mumford.
The GWS ruckman lives in Bondi, is feted for his astounding sporting deeds, and has fame and fortune beyond his wildest dreams
He was an animal. He loved to eat. – Janet Mumford
And yet for so many AFL stars like Shane Mumford there is a family like the Mumfords and town like Bunyip behind them.
He might be a superstar, but as Glenn points out his premiership photos on the walls of the Bunyip footy clubs: "There he is, the a—hole with the dreadlocks."
He says it with a hearty laugh which lights up the room.
That is the Mumfords for you — not that many airs and graces, just brilliant country stock who supported their boy every step of the way.
That journey took in man mountain Shane being constantly overlooked for junior squads because of his size, then eventually plummeting from 130kg to 105kg to fulfil his dream.
And it began with a choice that could have seen Sydney premiership player choose basketball over football.
"We moved to Bunyip when he was 10, turning 10, and basketball was his favourite sport,'' Janet says.
"He was only playing juniors but he got an MVP award in a Melbourne Tigers tournament. He was the youngest guy there and he was leaping over the other guys."
Glenn interjects: "Yeah, he has always had that little bit of psycho in him,'' he giggles.
"But our middle daughter has got cerebral palsy and she had to have a major operation,'' says Glenn.
"Basically we said to him you can't do both sports. We would be going to Shepparton for (basketball) on Friday nights and he would come home and play footy here the next morning.
"I said we can't do it."
So Shane set his mind to being the best footballer he could be.
It was a rapid journey through a couple of thirds premierships, then seniors, then a second-placing in the Ellinbank and District league medal.
Along the journey there were laughs and memories — but also rejection.
Says Janet of that Bunyip thirds premiership: "It was when he tricked me into getting a tattoo. He was 16 and he said if we win the grand final can I get a tattoo?
"I said of course you can mate. They weren't going to win. And then bugger me dead they won and he said, 'Mum, I am getting a tattoo'.
"I said, 'S–t, I did say that'. Now he has got a Bunyip Bulldogs one on one ankle and the Sydney Swans one on the other."
Twice he trained at TAC Cup side Gippsland Power, but they told him he was too lazy and they had enough big blokes on their list.
"I said, he's beating every other kid there, but they didn't listen,'' Janet says.
By 15 and a half Glenn had promised him he could get an apprenticeship if he passed Year 10.
Shane, a curious mix of laziness and fierce inner drive who had shown a total lack of interest in school, passed that year with flying colours and was soon an apprentice boilermaker.
He could play, and by god "Sausages Mumford" he could eat.
"He was an animal. He loved to eat,'' Janet says.
As a kid he would refuse to eat his dinner if a single vegetable had touched his plate.
Glenn says the much celebrated story of Shane eating 12 or 16 sausages after football training is, if anything, underplayed.
"He did it enough at the club, but there was a private function once where you would have to say he would be looking at mid-20s. How many cans of Jim Beam it took to wash it down, I don't know?"
Janet interjects: "He reckons it's in the 20s. The guys that were cooking the sausages kept saying "Mumford is back!".
By 19, he was lured down to play football for Geelong side Grovedale where Cats midfielder Jason Davenport got him a role as a Geelong VFL top-up.
He was a football curiosity, a massive 199cm, 130kg "paddock" footballer who oozed talent but didn't fit the required mould.
After six games during 2007, he was back in Bunyip.
Said Glenn: "He was in his Commodore station wagon with all his gear and he rocked up one night and said, "I don't like it there. I am coming home."
"A lot of people around the club would say, 'You are good enough, Shane'. But he decided he was going to get fat and lazy and sit back."
And yet as Janet says, that time in the big smoke had stirred something in their son.
"Something clicked. He was playing VFL and he said, do you know what, I am playing against AFL ruckmen in the VFL and I can beat them.
"He said, 'I am kicking their arse', so he came home and he ran every night."
Thus begun the transformation of Shane Mumford.
All day he would work as a labourer with a lunch of two cans of tuna and a few slices of bread.
Then he hit the streets of Bunyip for a nightly 5pm jog.
By the time Davenport lured him back for a farewell to a VFL teammate later in the year, he was a shadow of his former self.
Says Glenn: "He had a run on the track and Leigh Tudor and 'Bomber' (Thompson) said, "Is that Mumford?"
"He had put his mind to it and got fit and that's how it all started."
Soon Tudor was calling to invite him up to train for a 2008 rookie-list spot.
Shane told them he would love to, but had to give a week's notice to his current employer.
Janet, clearly delighted with the story, takes it up.
"Leigh Tudor will tell you that he walked into Bomber's office and said Mumford is excited but he is not coming up tomorrow, he needs to give a week's notice.
"And Leigh Tudor says that Bomber put his arm up and smashed it on the desk and said, 'That's why I f***king want him. He is dedicated and will do the right thing for his boss'."
Nine years and 138 games later, Mumford is the heartbeat of this young GWS side.
And by gosh are the Mumfords proud.
Glenn believes their daughter Deanna's challenges have inspired both Shane and Ebony, a personal trainer now carving out a reputation in boxing.
"It's been an inspiration for both our kids. Don't sit on your arse and sook about it. Get out there and do it," says Glenn.
For Glenn and Janet, the injuries and farewells have been especially difficult.
A cracked cheekbone and broken ankle are the worst of those issues, with Janet aware immediately by his facial expression if he is seriously hurt.
When Mumford steamrolled former teammate Mitch Duncan in one of the tackles of the season earlier this year, Glenn was on the edge of his seat.
"I was watching and thinking, "I hope Duncan gets up. I thought it should be legal. But when it was full frontal, you worry."
After two years at Geelong and 18 games in the 2009 season, Mumford was dropped for ruckman Mark Blake.
If you dig hard enough there is a backstory about Blake, overlooked for the 2007 Grand Final, being given certain assurances he would play.
"No, we don't talk about that,'' says Glenn emphatically.
Geelong's decision and Mumford's frustration at missing out would trigger a four-year, $1 million offer from Sydney, which Mumford couldn't ignore.
Similarly when Lance Franklin's mega-deal pushed Mumford out of the Swans, he was flooded with choices.
"It was just open slather, the amount of calls he was getting,'' says Glenn.
"Hawthorn was very close, he had actually given (Alastair) Clarkson his word that he would probably be there and then GWS came back with that (massive) offer and he said, "What do I do?"
Now the boy from Bunyip has a Bondi apartment with another investment property on the way, a new GWS contract, and has recently made another huge announcement.
Shane and fiance Eva Konta are expecting their first child later this year.
"Mummy is going to be a Daddy,'' says Glenn with a glow of pride.
Still only 29, Mumford's move to GWS has helped a side that is now firmly in the premiership window.
He tackles more than any other ruckman, gets his hands dirtier, scares more opposition players than any other player.
As he told the Herald Sun last year, "I am always trying to hurt someone".
But Saturday night he will return to Bunyip to be with his family before visiting his grandad on Sunday then flying back to Sydney.
"In the meantime he will catch up with everyone he possibly can,'' says Glenn.
It has been a life less ordinary for the Mumfords and their son Shane, but the town of Bunyip has ridden the journey all the way.
When Mumford returns a fleet of kids follow his every step at the footy.
"But it's just Shane,'' Janet tells them.
When Sydney won the premiership in 2012 they rushed back to celebrate — and found they town had gone early.
They were the only sober couple in the town.
"It is just a typical country town where the kids play sport and the parents socialise. It is one big family,'' says Glenn.