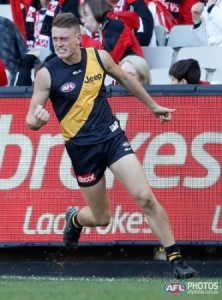 Moore mixed his football with the Calder Cannons in the TAC Cup in 2015, with representative duties at the National Championships with Vic Metro.
He could be considered as a late starter to football, as in his early years his football commitments were shared between rugby union and basketball where he showed great promise.
While playing manly in the forward and in ruck with the Cannons, Moore has the athletic attributes to play as a key defender, which he did in limited time late in the season.
He performed strongly at the National Draft Combine, recording a 2.91sec time for the 20-metre sprint.
Moore is a strong overhead mark, has a strong speed and power combination, and will look to be developed both forward and in defence.