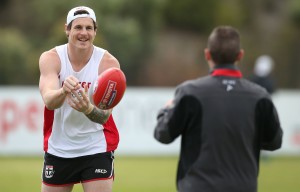 JAKE Carlisle believes he can fulfil St Kilda's demand that he turn into the league's best centre half-back after an aborted start at his new club.
The 24-year-old has spent the past season recovering from hip surgery and knee tendinitis, believing his time away from footy will help him next year.
He has spent the year connecting with his new teammates away from football, aware he must win back their trust after his off-season Snapchat debacle.
A two-week AFL ban has been served concurrently with his ASADA suspension and Carlisle says he has worked all season to build relationships with St Kilda's players.
"Everyone makes mistakes. My main aim is to learn and move on from it,'' he told the Herald Sun.
"I feel like this year it's helped me to do it. I have contacted a lot of the boys over the season and worked my work schedule and training schedule around them.
"I was catching up with boys frequently whether it was on a day off or the weekends.
"I didn't want to come into this year feeling like I was a new player again. I had been there for three months and then was cut off and I wanted to be part of the group again."
Carlisle will only this month again start being paid by St Kilda, which took a hard-line stance after he was banned for nine months for Essendon's ASADA dramas.
After that ban St Kilda chief executive Matt Finnis demanded he use his time off to become the most mobile and dominant centre half-back in the game.
"I like that he said that because it's something I can aspire to,'' Carlisle said.
"I feel like this year has definitely helped that. I have had ongoing knee tendinitis for 4-5 years and I carried a hip for two years.
"But I have got over those niggles now. It will be a long year if I start running now so give me a few more months until I start running.
"But the main thing is if I get my legs going and my glutes nice and strong and build my frame the footy smarts will still be there.
"It's not just about me being a presence, it's about us six guys playing in defence at any point in time defending well together."
Carlisle has lived on his savings and a part-time role in the construction industry, but admitted it would be nice to again be paid for playing football.
"It will be nice to get paid again sooner rather than later, but the guys have saved and done well with that,'' he said.
"As of this month now we are getting paid which is satisfying but the rest (his compensation issues with Essendon) will work themselves out.
"There is no rush but it would be nice to get it done and I am looking forward to getting paid."
He said he was hopeful Sam Fisher would be handed a contract to play on, aware he had been forced to play on most of the "monsters" in rival teams this year.