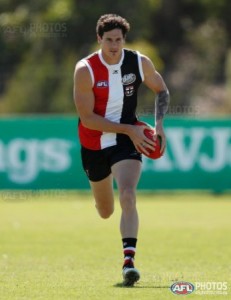 St Kilda great Danny Frawley says Jake Carlisle has the capability of quickly being in contention for All-Australian selection in his return to football after a year-long anti-doping suspension.
The former Bomber stepped out for the first time with the Saints in an intra-club match at Trevor Barker Oval on Thursday and impressed while being restricted to the first half of the game.
Carlisle had undergone hip surgery during his ban and returned to full training only in January. The Saints have taken a cautious approach with the key defender, and his game time will increase when the Saints begin the pre-season series against Port Adelaide at Etihad Stadium on Thursday.
Frawley, the Saints' backline coach, said Carlisle was tracking well.
"He will play probably three quarters next week against Port Adelaide and then the week after against Carlton he will play the full minutes. He hasn't missed a beat since mid January," he said.
Frawley said he didn't expect the year off from the game as a result of the Essendon supplements scandal would impact negatively on the swingman, who last played as a key defender in 2013.
"We don't see any problems whatsoever. He is fresh, if nothing else," he said.
Carlisle, set to have a solid running session on Friday, has combined well with another new face, former Collingwood premiership defender Nathan Brown, through the pre-season, with the Saints expecting the pair to add greater stability and voice in a young defensive half.
"Most training sessions, when we have some game simulation, we try and put those two boys together, and the thing I found with those two lads, they have played a lot senior footy and they are really good communicators," Frawley said during the Saints' live stream of the intra-club clash.
"We have a young defence but we have got a pretty introverted defence. They will bring some experience. Nathan Brown is a premiership player and Carlisle, if he gets a good run at it, he could be in contention for All-Australian (selection).
"I don't want to put him under too much pressure, he just needs to get his feet under the desk here at centre half-back for the Saints. But those guys, it's good when you are looking down the ground and you see two big bodies … Sam Fisher was playing above his weight and height in the past two years and did a great job, but to have guys in Brown and Carlisle, it allows (Dylan) Roberton, (Sam) Gilbert and (Sean) Dempster and these guys to play in their rightful position."