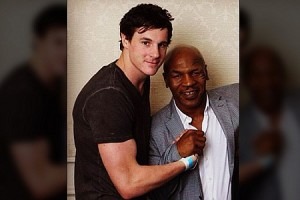 Essendon defender Jake Carlisle earlier this week met former world heavyweight champion Mike Tyson during his visit to Australia.
Carlisle attended Tyson's Day of Champions held at Melbourne's Festival Hall and was lucky to get a photo with him following the event.
The 21-year-old said it was an interesting experience to both meet and hear the stories of Tyson.
"It was good to actually see him, have a real conversation, shake hands and get a photo with him," Carlisle said.
"It was pretty good, it was a bit different. We went through an hour where he told us about his life which I didn't know.
"It was interesting to know how he grew up, what he does and how he became a fighter as well as the adversity he face throughout his life and how he is now."
Carlisle said hearing about the adversity Tyson has faced throughout his life and how he has overcome those challenges was something he could learn from.
"It was interesting and different to learn how someone like that can go from bankrupt and those sorts of issues and end up back on his feet."
"I think I learnt that if you can grow up around the right people then you set yourself up to learn from the right people as well."
"I think you just have to have the right mentors in place to live your life."
Carlisle today returned to full training with the main group as he continues his recovery from an ankle injury late in the season.