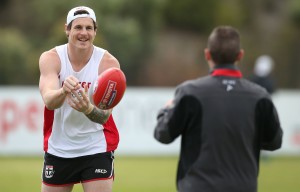 For Jake Carlisle, the disappointment of missing 2016 has spurned the opportunity for improvement.
Less than four months after arriving at Linen House Centre via trade, the Bomber-turned-Saint was given the news he and 16 current AFL players had been dreading. The Court of Arbitration for Sport had upheld WADA's appeal of the AFL anti-doping tribunal's Essendon verdict.
Carlisle's 2016 season was over before it could begin. While the initial news was understandably difficult to process, and an on-field start would have to wait a year, Carlisle decided to use the twelve-month hiatus productively.
Able to return in a training capacity in September, the 25-year-old's suspension officially ended on Monday. An unfortunate chapter in a promising career was done and a new page ready to be written.
The suspension proved difficult, but productive for Carlisle – allowing him to work on his football craft and pursue opportunities outside AFL football.
"It was very tough," Carlisle told SAINTS.com.au.
"Obviously early it hit me a bit not playing and waking up every day not going to training, but I found other avenues outside of footy.
"I've been working (in construction) and working on football training as well, went away and now that I'm back it's just really satisfying to get back into it," he said.
As part of the suspension, Carlisle was to have no contact with coaches, club staff or players about training or preparation. With no access to club staff until September, Carlisle had to map out his next ninth months of training. With the help of personal trainers, he used the time to work on areas that required improvement – including a hip injury causing him trouble prior to his arrival.
"Early (in the suspension) it was just relax and take everything in, but once it happened I got into work and outside work I found a few personal trainers that helped me because I couldn't get a program from the club and the guys here."
"It was a lot of work and it was a bit different having to do it myself, but it was actually really enjoyable," Carlisle said.
"I got to work on things that I haven't been able to do, aka leg work and things like that.
"So it's all going really well, but as I said, tough year and not as easy to find other avenues as it is to what you do when the guys are working here," he said.
Through all the personal training and work in construction, a burning desire to play for St Kilda remained a constant, fuelled by the side's on-field improvement.
"It was tough, the first half of the season I just felt like I wanted to be out there and I wish I was," Carlisle said.
"But the more games we played, we did get better as we went along but there wasn't too much I could do so it was very motivating watching the boys play some good games," he said.
When the day finally comes and Carlisle can run out with his new teammates, Senior Coach Alan Richardson has a handy weapon at his disposal.
Gifted with the ability to play as a swingman, Carlisle has shown he can perform at both ends. As a defender, he's taken scalps of the game's best goalkickers. As a forward, he's shown the knack of kicking goals – including a haul of eight against the Western Bulldogs in 2014.
So to which end will he begin his St Kilda career?
"I'll start in defence and who knows what Richo is thinking, but there might be a time where we swing forward but I think our forwards are pretty good at the moment."