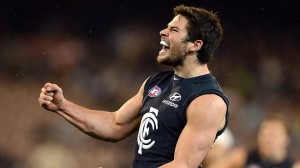 What Carlton's Levi
Casboult describes as a goal-kicking "cliché" is helping to improve his all-round value and turn him into one of the AFL's best power forwards.
Off-contract this season, Casboult was overlooked for the opening three rounds but has featured in the past nine, with somewhat of a breakout performance against Hawthorn on Friday night. He had booted only 4.7 this season heading into the game but doubled that by kicking three of the Blues' four goals in the second term and the first of the third at the MCG.
While his marking through a stop-start but fledgling career has not been a concern, his ability to convert set shots with an unorthodox technique has had some questioning whether he could be a regular selection, even if used further up the ground and as a relief ruckman.
Even Casboult, a former soccer player, has questioned whether he had the required skills to forge a senior career.
"I have played a few games in a row now. It's good to get that continuation in my game, just getting the confidence from teammates to go with it. So it was nice for it to come together," Casboult said of Friday's return.
Casboult flourished with some old-fashioned tactics in play against the Hawks, namely long kicking and an open forward line.
His first goal came after a towering pack mark over seven others about 20 metres from goal. When he later shoved Matt Spangher out of the way in a one-on-one marking contest, Hawthorn great Jason Dunstall, commentating on Triple M, was prompted to declare he was "one of the best marking forwards going around".
Dunstall praised Casboult's ability to clear space and mark, while his one-grab ability has been likened to former St Kilda star Stewart Loewe, who also had to work feverishly on his kicking style.
What he has shown in 26 senior matches is that he is elite in terms of contested marks, averaging 2.2 per game – equal second in the AFL with Kurt Tippett and Jarrad Waite and behind only Travis Cloke (2.6). "To go up in a pack and it sticks – it gives you a lot of confidence," Casboult said.
He has worked diligently on his technique and mental application with assistant coach Brad Green, one of the game's best marksmen in his days with Melbourne. "It's been an on-going process. I have never been the best kick. It was nice for it to come together," Casboult said. "It's been something … all year that Greeny and I have worked on."
That has been reinforced on the scoreboard, with Casboult's conversion rate lifting from 36.8 per cent in his debut senior season of 2012 to 53 per cent this year.
It seems to be the lot of key forwards that they endure kicking yips or issues of some kind. Nick Riewoldt and Cloke are two prominent names who have spoken about their mental hurdles in front of goal.
With ball in hand, Casboult, 24, revealed he had adopted an old goal-kicking philosophy against the Hawks. "I really focused on someone in the crowd. I don't know if that was the old cliche – pick someone out in the crowd, just three or four rows back [and aim in that direction]. I guess it worked," he said.
The focus appeared to help him kick better through the ball with what is a booming right foot when his timing is right.
Coach Mick Malthouse later said he and his coaching panel had worked to reinforce Casboult's inner belief.
"He wasn't necessarily bred into football and sometimes it takes a bit of time. Then he lost his way a little bit," he said.
"I'm delighted for him because he does work hard. It's not a natural thing for him, he has to work at it and I think the lessons learned there are if you're prepared to hang in there [you get the rewards]. He changed his style a bit in kicking and he feels far more comfortable, so it's a double bonus for us. He can catch it and he can kick it."
Casboult, from the Victorian town of Beaconsfield, grew up a Blues supporter. His favourite player initially was "skinny" Matthew Lappin, admitting, with a smile, that there "wasn't really a like for like there".
Casboult, at 199 centimetres and 103 kilograms, has the "capability of being, we won't call it the monster forward, but he's a very difficult forward to hold when he's up and running", says Malthouse.
The next poster on Casboult's wall was that of Waite, the man he now shares a forward line with. Casboult was delighted Waite, after an indifferent few weeks, responded strongly against the Hawks, with six marks, a goal and was active all night.
"It was a good step forward for Jarrad and I, especially Jarrad who has been a bit down. It was a boost of confidence for him as well," Casboult said. "With Lachie [Henderson] coming back in, hopefully we can create a bit of havoc for some back lines in the weeks to come."
It is likely Casboult can expect an offer of a two or three-year contract extension when negotiations with the Blues intensify. "I grew up a Carlton supporter. If the opportunity arises, I definitely want to hang around," he said.
Read more: http://www.theage.com.au/afl/afl-news/carltons-levi-casboult-emerging-from-the-shadows-20140617-zs91p.html#ixzz35QrUsA3L