JAKE King reached for his tattoo gun as Dan Butler grinned with laughter.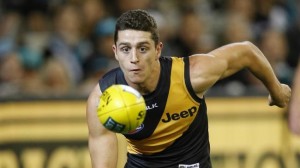 Round 19 Rising Star winner Jason Castagna was having his right butt cheek inked with a table tennis bat and ball and DB — the initials of his housemate, teammate and table tennis champion.
After a marathon tournament lasting about 10,000 points and several months, Butler won 150 matches to 144 and forced Castagna under the ink gun.
"The deal was you had to get it done within a month. I went and got it two weeks later," Castagna, 19, said.
In a league swimming in cash, Castagna plays on a base contract of about $70,000 plus match payments.
The goalsneak has played every game in 2017 and while he is still waiting on a deal for next season, is desperate to re-sign at Punt Rd.
Ping pong isn't the only competition between the small Richmond forwards. Charged with applying searing pressure by coach Damien Hardwick, every week Butler, Castagna and Rioli gauge their pressure ratings.
The trio, nicknamed 'The Three Amigos' by spearhead Jack Riewoldt, have now delivered the Tigers their past three Rising Star nominations.
"It's almost like a little competition between us small forwards when we're playing, who can get higher pressure points," the rookie success story said.
"We aim for 40-plus, (a rating of) 50 is pretty good, that's when you know you've had a pretty good game in terms of pressure points.
"It's always good to kick goals and get some crumbs, but our main role would definitely be just putting on pressure."
The Tigers had a day off yesterday, but Castagna, Rioli and Butler should receive their pressure ratings in assistant coach Justin Leppitsch's office today.
Castagna, nicknamed 'George' by former teammate Tyrone Vickery based on a Seinfeld episode, has kicked 23.18 this season.
"At the start of the season I didn't really expect to have gone this well," Castagna said.
Castagna and Butler moved their table tennis table into the garage for the end of their tournament as every Tiger crammed in to watch the grand final.
And with the Tigers in the top four, it's not the only final on their mind.
"We've got to this part of the season and we're thinking, 'Why not us'," Castagna said.
As for the ink?
"My girlfriend Nat was a bit flat, but my parents saw the lighter side. It was my first (tattoo) and I think I'll cap it at that," he said.