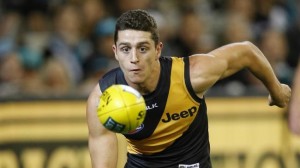 Livewire Richmond small forward Jason Castagna is fully aware of the challenges coming his way next season.
And those challenges aren't confined to dealing with what opposition clubs will be throwing at the Tigers in 2018.
Competition for spots within the reigning premiers' line-up will be hot – especially in the small-forward department.
Castagna played all 25 of Richmond's games in season 2017 and kicked 26 goals.
He was an important member of the premiership team through his goalkicking ability, pace, and the defensive pressure he applied to opposing defenders.
But he fully realises the importance of working hard to stay ahead of the pack of talented, young Tiger small forwards such as Shai Bolton, Tyson Stengle, Jack Higgins and Liam Baker.
"We've picked up a few other small forwards and they've been training well. So it's a good competition for spots," Castagna said.
"Hopefully I can hold my spot and keep playing the role I played this year.
"I'm just going to keep building my game around pressure and helping those guys up the field.
"I'll work on my scoring accuracy and goalkicking . . . Maybe kick a few more goals, a few more tackles."
And Castagna will do it in a new guernsey number at Tigerland – No. 11 – after previously wearing No. 46.
"It was one of the available ones. Looks good on the back, double one," he said.
"It was a bit sad to leave the 46, the premiership number, but jumped at the opportunity to go a bit lower.
"I thought about it a bit (giving up his premiership number), good spot in the locker room, but there are some good boys around 10 and 12, so it wasn't too hard."