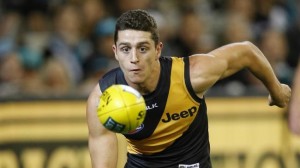 Jason Castagna pressed his claims for an upgrade from Richmond's rookie list to senior list, with a lively display up forward in last Friday night's JLT Community Series win against Adelaide at Etihad Stadium.
Castagna utilised his great pace to full advantage for the Tigers, both offensively and defensively. And, he was the team's leading goalkicker in the match, with three goals.
After making his senior league debut with Richmond last season, and playing five games all-up, Castagna appears capable of adding significantly to that number in 2017, if he is elevated from the rookie list.
"I thought it was really good just playing forward with a couple of the other small forwards like Dan Butler, Daniel Rioli and 'Lloydy' (Sam Lloyd) . . . just really good to get around them, put on some pressure, and get some result," Castagna told 'Roar Vision' in a post-match interview last Friday night.
"I just trusted the work I've done in pre-season and tried to keep doing what I've been doing, and got lucky enough to kick some goals. Hopefully, I can continue that . . .
"I've been working on my leading patterns, running patterns, and tackle pressure.
"If I get some goals, then that's a bonus. So, I was pretty happy with that."
Castagna has formed a close bond with fellow Tiger speedy small forwards Daniel Rioli and Dan Butler (his housemate).
"I'd love to be playing with Dan and Dan every week," he said.
"It just makes it so much easier to put pressure on, when you've got them chasing blokes and referring the pressure, so then we can chase down . . .
"We've got a lot of talented players up forward, and a lot of pace . . . We've encouraged everyone to play to their strengths. And that's coming out . . .
"It was pretty evident tonight, and pretty exciting to see that."
The 20-year-old is maintaining a straightforward approach to his football aims for 2017.
"At the moment, I'm just focusing on week by week," he said.
"Hopefully, I (can) play again next week, play all right, and keep building for, hopefully, Round 1."