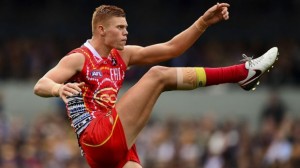 TOM Lynch may be the Gold Coast player on everybody's lips.
But his two-metre forward line companion may prove to be the club's biggest star — and the game's best big man.
Peter Wright has not only been rated by Champion Data as the best 20-year-old in the competition, but superior to players such as Jeremy Cameron, Taylor Walker and Jesse Hogan when they were also 20.
As profiled in the 2017 AFL Prospectus, Champion Data's new metric — called "relative rating" — measures how a player is performing relative to others in the same position at the same age.
The sample size is significant too, as players have been compared to each other from 2010 onwards. Wright's relative rating of +65 per cent has him pegged as the best 20-year-old in the competition.
And when it comes to power forwards since 2010, it seems he also has them all covered.
Wright's rating of 11.1 is better than Cameron (10.7), Jack Darling (10.0), Hogan (9.8), Walker (9.0), Joe Daniher (7.4), Lynch (7.4) and Jack Gunston (7.3). This may come as a surprise seeing, of the aforementioned group, he has only kicked more goals than Lynch and Gunston at the same age.
Indeed, when Cameron was in 20 in 2013, he booted a whopping 62 goals to finish second in the Coleman Medal in a struggling Giants side that only won one game for the season.
But Wright's accuracy of 69.2 per cent was seven per cent higher than the next best, while his overall kicking efficiency was also rated No. 1.
The 203cm Wright spent time in the ruck where he averaged 4.3 hit outs per game, which only added to his relative rating.
Champion Data's appraisal of the 2014 No. 8 draft pick may not fit with the average punter's perception of the young forward, but the relative rating rang true for Brisbane champion Alastair Lynch.
"He takes good contested marks, but he's also a really good kick from a long way out," Lynch told foxfooty.com.au.
"Jonathan Brown was a beautiful long kick for goals from outside 50 and Peter Wright is very similar. He looks like someone who can kick long goals and you'd back him in if he took a shot from outside 50.
"He moves well. He's so agile for such a big man and kicks the ball beautifully."
While Lynch was unsure whether Wright could or would overtake his skipper as the Suns' No. 1 forward, he suggested the pair would prove a nightmare for opposition defences.
"A lot of teams have one quality defender who is big and strong and athletic and in that mould. But not many have two really good defenders at that size," Lynch said.
"That's going to be a good thing for Peter Wright over the next couple of years. With Tom Lynch being one of the premier forwards in the competition there's a relatively good chance Peter Wright's not going to get the No. 1 defender.
"If he's getting the second or third string defender, he's going to be a headache for a lot of clubs, especially if you add Gary Ablett to the forward line."
Despite this, the triple premiership player rebuked suggestions Wright's statistics may have been inflated because Lynch would have been taking the opposition's best defender.
"Someone's going to get off the hook," Lynch said.