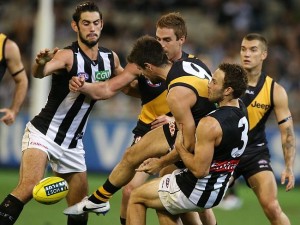 We're told Brent Macaffer is a footy connoisseur. He watches it, listens to it and reads about it.
So we can only assume he will enjoy his diet of football coverage over the coming days because his performance last night was an enormous factor in Collingwood's win over Richmond.
In a ruthlessly hard tag, Macaffer restricted Trent Cotchin to a paltry 13 disposals at 46 per cent efficiency. It was a complete a negating job as you're likely to see this year.
Macaffer pushed, shoved, bumped and had an arm thrust across Cotchin for every painstaking minute the Richmond captain was on the field.
People can question the ethics of Macaffer's role — not looking at the ball and showing total negativity — but he rarely strayed into illegal territory. When he did he was penalised, and Cotchin received four free kicks.
No, this was an incredible display of concentration and discipline against a player who had racked up 38, 25 and 28 possessions in Richmond's opening three rounds.
Cotchin trudged off the MCG last night with his lowest disposal tally since Round 16, 2010.
Macaffer is not new to the so-called dark arts. He was a forward in Collingwood's 2010 premiership side, but his transformation from injured attacker to shutdown specialist was completed last year.
The man from seaside town of Kilcunda made waves when he muzzled Nick Dal Santo in Round 6. He then went on to silence some of the game's greats in a season that saw him recognised with a sixth-place finish in Collingwood's Copeland Trophy.
Nearly 12 months on he would arguably be the second-best tagger in the caper behind Ryan Crowley. But unlike the Fremantle antagonist, there appeared to be no verbal and little, if any, behind-the-play niggle.
Cotchin is one of the game's great workers, but by half-time he appeared to have almost lost the will to run. You didn't have to be a body language expert to see he was in a dark place.
Dustin Martin briefly tried to block for his mate, Dan Jackson had a brief crack at Macaffer and Shaun Grigg offered a snippet of resistance. Cotchin went to a rampant Scott Pendlebury in an attempt to escape Macaffer's suffocation and he had a spell at full-forward, too.
None of it worked.
Then, late in the third term Macaffer took Cotchin to full-back to further salt the wound. No Richmond player went to relieve their skipper of the burden, but that's a whole other story.