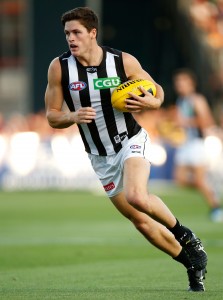 IT'S 5.30pm on a Friday afternoon and Jack Crisp is sitting beside his phone waiting to fly home from the Gold Coast.
His Collingwood teammates are catching a flight the following day but Crisp has booked an earlier ticket because he misses his little girl.
She is just 10 weeks old, he is just 24.
Crisp is dying to get home on a Friday night when most men his age are dying to get to the nightclub.
"She was a bit crook last week and a bit upset, so I didn't want to leave but I've been getting a lot of videos and photos to see how happy she is now," he said after the Pies' week-long training camp in Queensland.
"I'm looking forward to seeing her."
Another unique thing about Crisp is that he started courting his wife, Mikayla, on Facebook.
They knew each other, of course — they lived in towns 30 minutes apart, he played football at Myrtleford and she played netball for Ovens and Murray rivals the Albury Tigers — but the real conversation started on social media.
It was Christmas Day in 2011 and the then 18-year-old Crisp had not long finished Year 12.
While his family took the customary post-Christmas lunch nap, Crisp instead decided to fire up the computer.
He sent a message, Mikayla sent one back. Three months later they started dating.
The following year after Mikayla had finished high school they moved in together, five years later they were married and last October they had a baby girl, Lilah Rose.
"A lot of people say that I am young to be a dad, but we were ready," Crisp said.
"We spoke about it a lot, what we wanted in life and we wanted to be young parents.
"So when our kids are older, during the teenage years we will still be or should be young, fit and healthy and should be able to run around and have fun with them and stuff like that.
"Then when the time is right kick them all out of the house and go and do some travelling."
Crisp seems to take change in his stride.
Matter of factly he explains that he grew up barracking for Carlton, was drafted by Brisbane and three years later, deprived of regularly senior opportunities sought a move to Collingwood.
Then in Round 9 last year he quickly embraced another abrupt deviation from the norm.
Collingwood was playing the struggling Hawks in a game the Magpies were expected to win.
By half-time they were down by 34 points and journalists began compiling obituaries for the impending death of Nathan Buckley's coaching career.
During the long break Crisp, who had played midfield, forward and on the wing, was thrown into defence. He has never looked back.
Collingwood won the game, Buckley's obituaries were torn up and tossed in the bin, and Crisp started the following week against Brisbane in defence.
"I think someone got injured and they wanted me to go back and help out. I had an OK game, I guess," he said.
This year will be more of the same for Crisp, but more of something different for his teammates.
Ben Reid is expected to go forward, Darcy Moore will go back and the Magpies have hinted that Scott Pendlebury and Taylor Adams will spend time rotating through half-back.
With the new roles seems to be a new mantra.
Collingwood players will no longer waste energy on external noise about their club or coach, according to Crisp. They have moved on.
"I think we all admitted it was a little bit distracting before we started pre-season again but it can't be helped now," he said.
"We've changed the football department and the football program and we are looking for bigger and better things for 2018.
"We've spoken about worrying about what we can in here and not listening too much to the outside like we probably did last year."
Crisp has played all 66 games since joining Collingwood in 2015 and signed a contract extension until the end of 2019.
"I went to Brisbane as a young 18-year-old and didn't know anything about AFL," he said.
"But when I came to Collingwood I'd been in the system for three years so I had a bit more experience.
"My first goal was to make the round one team and then after that it was to keep my senior spot."
Crisp first befriended Geelong premiership player Travis Varcoe when they both arrived at Collingwood, is good mates with recently married Will Hoskin-Elliott and now finds himself trading dad stories with other first-time fathers Pendlebury and Tyson Goldsack.
"It definitely creates a new conversation," he said.
"We are always talking about what goes on with your baby. A bit of feedback, and see what they do differently and stuff to try, so it's pretty good."
Crisp believes becoming a father has already helped his playing career.
"Coming home just switches my mind straight off football so there's an opportunity to relax a little bit," he said.
"Soon as I get home I get some cuddles and some smiles and then a nappy change — I don't think Mikky changes her on purpose to wait until I get home.
"But I've got a pretty good deal on the main training nights — I don't have to get up so I get a good sleep.
"Before we even had the baby we worked that out so I was happy with that."
Collingwood's week on the Gold Coast?
"We just brought our program that we are running in Melbourne up to the Gold Coast," Jack Crisp said.
"Had our main full day training on Monday, Wednesday and Friday, had a half day Tuesday and then we had all Thursday off. Just a different environment, a different stimulus I guess. We trained really well. It definitely lifted our standard a bit. Staying together, creating those stronger relationships with each other. Spend more time together."