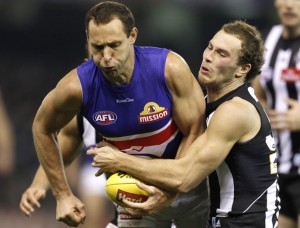 SOME run-with players are born. Others are made. Collingwood's Brent Macaffer certainly falls into the latter category.
Drafted to the Magpies as a medium sized forward, it is pretty much the role he had played his entire time at Collingwood before a tap on the shoulder from coach Nathan Buckley as the round six clash with St Kilda approached.
Buckley needed someone to sit on creative Saints midfielder Nick Dal Santo and chose Macaffer as the player to do it.
Since then he has become Collingwood's first choice run-with player.
"It is something I have really enjoyed," he told SEN 1116 on Thursday morning. "I was struggling with my form, drifting in and out of games and then 'Bucks' came to me six or seven weeks ago and said he wanted to try something new.
"It is something Collingwood traditionally hasn't tried," he said.
The 25-year-old, in his first season back after missing all of 2012 with a knee reconstruction, said he was becoming "stale" as a forward and had been eyeing off a midfield berth for some time, but not being an elite runner, wasn't sure there would be a role there for him.
"Playing forward was all I knew. This was something completely different for me," he said.
Asked about the role Leading Teams had played at Collingwood this year, Macaffer admitted their sessions had been a bit confronting for some of the players but that the club would ultimately benefit.
"When you look at the Swans, you see how respected they are. We want Collingwood to be like them."
Macaffer added that Collingwood's inconsistency this year had been noted by the players and was a source of frustration.
"We have spoken about that this year. We want to be a consistent footy club and play four quarters of footy. We have a lot of new guys coming in learning their role and understanding what AFL footy is all about," he said.