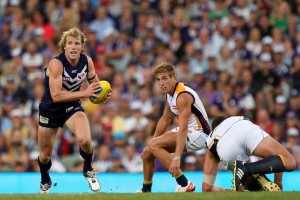 FREMANTLE'S David Mundy last night joked that derby officials had to forge a second Ross Glendinning Medal out of a Coke can after the best on ground honours were shared for the first time in the rivalry's history.
Mundy was forced to share his first derby medal win with fellow midfielder Michael Barlow, after both put on a superb display to help the Dockers to a 28-point win in front of a home crowd at Patersons Stadium.
It was Barlow's second Ross Glendinning Medal, having claimed the Round 6, 2010 award.
The medal has been handed out 25 times, with last night the 13th win for Fremantle and the first time the medal had ever been shared.
"It's a great honour to win it, but I think mine was made out of a Coke can and Mick got the real one," said Mundy, who clarified that he did receive a genuine medal.
"But obviously it's a great honour and I was just really pleased to get through the game and get the four points.
"Training all summer makes a big difference and hopefully we can stay injury free all year and build on the chemistry in the middle, not just with Mick, but with everyone in there."
Last night's game was the first time since 2010 that Mundy and Barlow had been fully-fit alongside each other at the start of a season, with the former struggling and missing the first two games of 2012 with ankle concerns, and the latter absent for the entirety of 2011 from a broken leg and re-building his game last year.
They proved deadly working alongside each other, racking up 27 touches and six clearances each and combining for 19 tackles.