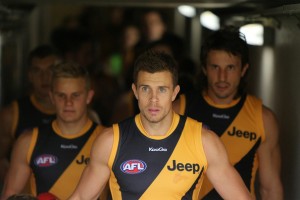 Gun Richmond midfielder Brett Deledio is returning to the peak of his powers as he continues to manage the effects of an Achilles injury suffered earlier this season.
Deledio missed four straight games from Rounds 2-6, and while his output in the eight games since has been of a high standard, it has only been in the last few weeks that he has felt back to his best.
Since Round 7, he has averaged 23.5 disposals and five marks per game, but last week's performance against St Kilda was one of his best games for the season so far.
He collected 30 disposals, kicked a goal, laid three tackles, and took an equal-second career-high 11 marks.
"I feel like I'm starting to get my speed back, and some confidence back, in my Achilles," Deledio told Richmond's weekly podcast, Talking Tigers.
"I came back and I was right to go, but it wasn't 100 percent.
"It probably hampers you a bit upstairs as well – you're thinking about it, and it has you that second or two off. If you miss that second or two, you miss the contest, so to speak.
"It's been tough, and I've played some ordinary footy through that time, but I feel like I'm starting to get my touch back, and my work rate back, and I'm finding a little bit more of the footy."
Deledio's durability has been one of his strongest attributes in a 10-year career so far, and the 27-year-old found his month-long stint on the sidelines to be a frustrating mental battle.
"I think I had missed four games in seven or eight years prior to that. I was blessed with my injuries I had previous," he said.
"When I first got this one I thought it'd be a one-weeker and I'd be straight back. It was a real grind.
"A month off footy is quite a bit. Not only your fitness base, but your touch. The first thing I noticed when I came back was how quick the game was.
"I'm still only just feeling comfortable out there with people coming at me, and having to make quick decisions."