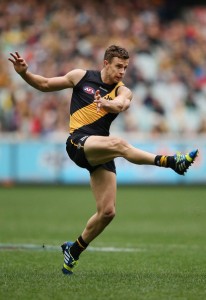 Brett Deledio faced an unusual battle with injury in the 2014 season, but emerged as one of the most effective Richmond players in the second half of the season.
The dual Jack Dyer Medallist missed four games early in the campaign with an Achilles injury, a setback which limited his effectiveness for the best part of three months.
The 27-year-old had barely missed a game in the previous nine seasons at AFL level.
Once he returned to full fitness, he became a key component to the Tigers' nine-game winning streak.
"I felt like I had a really good pre-season, and I was up and about," Deledio told Roar Vision.
"My first game was really good, but then I hurt my Achilles.
"I thought I could get through the second game, (but it was) no good. I missed the next four, then came back but it was still sore.
"I could get through, but I didn't really feel comfortable out there until probably about Round 12, when I had a really good heart-to-heart with my old man, and with 'Dimma'.
"From there, I felt like I got my speed back in my game, I felt comfortable, and my work-rate lifted.
From Round 12 onwards, Deledio averaged 25 disposals and kicked 17 goals in a move to the half forward line which added yet another dimension to his game.
"I certainly loved playing that forward role. It feels really natural, and that's what I trained the whole summer, to play that role," he said.
"It's an incredibly hard spot, half forward. You've got to be up the ground to give defensive support, then work all the way back so they can't just run it out really easily.
"It feels really comfortable, but I've still got to find a few more tricks for next year, and work harder again to make sure I'm continually giving myself opportunities to win the footy."
Deledio admitted to feeling helpless in the early portion of the season, when the team was underperforming and he wasn't able to make an impact on the field.
"I was angry, to be honest. When you're losing and you can't do anything, you're asking questions about what's going wrong, and how can I help," he said.
"I just felt so bad for
'Cotchy', who was getting absolutely mauled week in, week out by these taggers, and I couldn't do a thing about it to help him, apart from pat him on the back after the game."