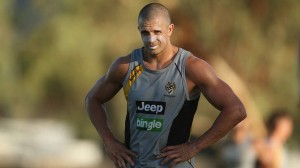 Brett Deledio didn't want to be Richmond's next captain. He really didn't. He knew people wanted the job for him, that they were sure it was what he would become. He knew what they believed: that it was meant to be. He had tried to think the same things, but four years ago he didn't even want to stay in the club's leadership group, let alone assume any greater responsibilities. There were too many meetings, too much talking. He wanted to be off in other places, working on other things. "I knew what you had to do and what you had to give," he said, "but I couldn't work out what the reward was."
He has changed. The night before Deledio and Trent Cotchin were called in to see their coach late last year, to find out which of them would replace Chris Newman as captain, Deledio told his younger teammate that no matter what happened, he would do all he could to help him out. He meant it, absolutely, and knew what a good choice Cotchin would be. But that didn't mean he was relieved to miss out, and hear Damien Hardwick say he would be vice-captain instead. As it turned out, he did want the job.
"I did, I really did. I remember saying to Cotch: I'm going to support you no matter what happens, and I'm going to do it wholeheartedly, and this decision isn't going to change any of that," said Deledio. "Even now, I know there are things he does well that I'm still working on, and ways that I can cover off on other things and do the things I'm good at. That's still going to happen, but at the same time I was disappointed, because I really wanted the job. I really wanted to be captain of the footy club."
Deledio knows when his mind began changing. He started, first, to feel like something other, or something more, than the No.?1 draft pick and a player that people wanted to do and be certain things. He started to understand why they saw those things in him, and like his teammates had begun to understand him. He felt his side start to grow around him, to feel stronger. He was out of contract when Hardwick became coach four years ago and can remember him holding his arms out and asking for a hug when Deledio promised he would stay. He realised that Richmond was where he wanted to be, forever.
Advertisement
As a footballer he has evolved too, learning from the players around him and from the different parts of the ground he has been asked to play in. This year, it will be the midfield again. "I'll probably be out on the wing a bit, but mostly in the middle. I think that's how it'll go," he said. "Playing in there is a bit different now, for me. I learnt a lot playing at half-back, I learnt a lot about the defensive side of the game, and what defenders go through and what they expect of the midfielders. That's going to benefit me a lot more now. I know how they feel, I know what they want, and how much they love the midfielders getting the ball."
The people around him have seen other things occur to him. "I reckon when he first came in he was like most super-talented, super-competitive kids. He just battled a little bit with understanding normal players, or less talented players, and with getting his head around the struggles that they had and he didn't," said assistant coach Wayne Campbell, who runs the leadership program.
"As he's matured, he's realised that not all players have it as easy as he does in terms of talent, but also that if he wants to get the sort of success he's always wanted, then he needs to be able to help those players out. He's started to see that, as he's gotten a bit older and wiser, he's been able to play an extremely high level the whole time, so he's started to think, what's next?
"He's become very good in team meetings, just with asking the right questions and making sure that different situations are cleared up. He's a really good trainer and he's probably been our best trainer for a while, but he's gotten better and better at running sessions, holding it up when things aren't right and he's impatient about getting some success and starting to show that in a positive way. But I really like him in the meetings. He might know the answer already, but he can pick when other people don't."
For Deledio, another important moment came even before Hardwick became his new boss. Captaining the side for a game at the end of 2009, when Newman was out injured, he enjoyed all the little things that came with replacing him: talking to the players before the game, leading them onto the ground, knowing that they were depending on him and that he could rely on them too.
"I think that, early on, I felt the pressure of everyone wanting me to be captain," he said. "There were so many other expectations, and people were looking to me to be the one who was standing up, and at times it all felt too much. But with some experience, I started to feel more comfortable with that. I started to feel more comfortable as a leader, speaking in front of the group.
"It was around then that it started, the end of 2009 and definitely 2010. And I couldn't have known everything at 21 or 22, so I've even just gotten a bit older. I started to feel that the boys respected me for who I was and what I'd done, and it takes a lot of pressure off when you look around and you know you can rely on other people to do their job, especially if you're having a bad day. Everyone's different and I think that's important, finding out what those differences are and knowing how people work."
Still, he is a competitor. He wants to be good at more things, at everything he can be. "There's always something else you want to do. I put pretty high expectations on myself in that way, I think. I look at Trent and he's just a natural-born leader. You watch him play and think I want to do that too, at all costs. That's where I want to take my game, to be that player who kicks that goal or does something special to get the side up and going. It's probably impossible, but I'd love to be that sort of full package, I suppose, where you're not really lagging in any area. And everyone has opportunities for that. It's just whether you take them or not."