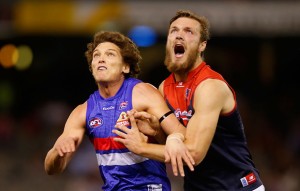 Beaming in the Melbourne rooms after his best game as an oft-tortured AFL footballer, Max Gawn was overflowing with numbers.
He knew the Demons' mugging of Corey Enright's 300th party was his club's first win at Simonds Stadium since 2005. "I watched it during the week, Robbo (Russell Robertson) kicked seven."
He knew Bernie Vince had amassed another 38 possessions in a midfield that belted the Cats at the clearances. "I had a joke with Bernie, just as we come off the ground, he's had 38 three weeks in a row and I've been in the team three weeks in a row. Maybe it's me putting it down his throat!"
Advertisement
He knew without hesitation that his 29th game broke new ground in a career that has featured two knee reconstructions and eight knee operations since he was drafted in 2009. What he didn't know was how glowingly his stats backed that up.
Nineteen possessions (an equal career high), 15 of them contested (another personal best), six contested marks (likewise) five inside 50s (tick), 44 hitouts (his second-best ever). He'd had games where his marking was similarly on song, but not while dominating in the ruck as well.
"I was talking to the coaches early on today, I've been in the right positions the last couple of weeks to take marks and they've just been slipping through," Gawn said. "I clunked one early, and the confidence that comes from clunking one early.
"I just felt like I wanted Dunny (Lynden Dunn) to kick it to me every time he had the ball. I just felt invincible at times."
Coach Paul Roos called his performance "fantastic", likewise praising Jake Spencer's work in a twin towers approach that fell out of favour with the advent of the sub, but fitted the requisite of doing something different in a bid to cover the absence of Jesse Hogan and Cam Pedersen. "It's risk and reward, today we got reward for it."
Gawn had the best view in the house of the work in the clinches of Vince, captain Nathan Jones and Jack Viney, who had Joel Selwood bleeding both literally and figuratively with a blanketing run-with job in which the young Demon also helped himself to 27 possessions.
"We knew we just had to win the contested ball and crack in and hopefully we'd get a result. The three of them – Viney, Jonesy and Bernie. It's super. I love playing with those guys, they crack in and win the contested ball.
"Viney's job on Selwood and some of his desperation acts was just super. I know ruckmen don't have the greatest reflexes, but I'm going down for a ground ball and all of a sudden Jack would come in from nowhere. He's kamikaze at times." If there have been times in the 23-year-old's career when he's had cause to curse his body, he is touching every bit of wood his 208cm frame can reach that he has finally turned a corner. His eighth knee op came at the end of last season and was effectively maintenance, and he's feeling the benefit of stringing games together and building an AFL footballer's base.
"I've actually put a few games together, 40 in a row since those knee recos. I'm starting to get a good bit of footy behind me."
The motivation to keep it that way is clear. "Once you do one, and you have to do it again, you don't want to go for a third time. I made sure everything I did was right for that. Hopefully the luck's on my side." He sees good times ahead for his team, too, noting the way the Demons have rallied against Collingwood on Queen's Birthday Monday, St Kilda last week and now Geelong after the Cats clawed back to the lead in the third quarter.
"In my six years, that's three weeks in a row, to be able to fight back like that. We're definitely on the mend, we're definitely going the right way, and it's good to get a reward for it."