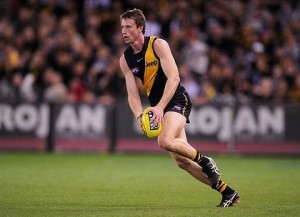 There's no player at Richmond more aware of the benefits gained from a strong pre-season preparation than dependable defender Dylan Grimes.
After battling numerous injury problems throughout his time with the Tigers, Grimes completed the first uninterrupted pre-season of his league career last year, and duly reaped the benefits. He played 18 games and managed his first top-10 placing in the Club's Best and Fairest (equal ninth).
His great hope at the end of last year was to enjoy – or at least endure – another unbroken pre-season leading into the 2016 season.
As we approach the end of February, with Richmond's season-opener against Carlton now just four weeks away, it's a case of so far, so good for Grimes on the pre-season front.
"It's been a really solid pre-season," Grimes said.
"I've managed to have quite a lot of continuity on the track, and same with a lot of our key players as well.
"Coming from a pretty good base of the last couple of years, we're able to work on some finer things with the game plan, tweak a few things, and take the next step in a few key areas that we deem pretty important after last season.
"We're in really good nick, but it's still a long way to go . . . Our goal is to play really good footy in the NAB Challenge and take that form into the early parts of the season."
Grimes is looking forward to having a run around in this Saturday's second-round NAB Challenge match against Hawthorn at Beaconsfield.
"I'm free for selection. I was a little bit disappointed not to play last week, but we went with a younger side. Really excited about getting out there for the first time this season," he said.