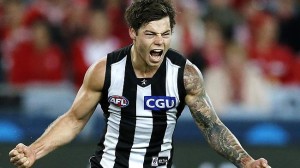 Entering his first injury-free pre-season, high-flying Magpie Jamie Elliott has made a reservation for a place in Collingwood's midfield.
Elliott has battled groin and other injury issues that severely restricted his preparation in his first two seasons at the Pies.
But with summer training in full swing, Elliott has sat down with coach Nathan Buckley and the club's medical staff to map out a program to allow him to join the Magpies' midfield rotation in 2014.
"I've spoken to Bucks and it's one of my ambitions to play midfield at some stage," Elliott told AFL Media.
"I've got to look after my body and I've got to be honest with the physios and fitness staff so I can just manage myself."
Elliott said he was thankful to be healthy at this time of year and believes it can only benefit him in the long run.
"So far my body's holding up as good as it has been so I don't feel like a 60-year-old playing footy at the moment, I feel like I'm 21, so hopefully it stays that way and I stay injury free," he said.
"I've sat down with the fitness blokes and the physios, just so I can manage my body throughout the year and the pre-season."
Elliott took some big steps in his football development during season 2013 – in a year he also won the 2013 Mark of the Year award.
He has firm plans to extend himself again next season.
"I've got high expectations for myself, but I just want to go bigger and better next year and hopefully the group does as well," he said.
The changing face of the Magpies' squad is something that is still a little foreign to Elliott, but he believes it will provide the younger brigade a chance to take some ownership of the team – including him.
"Before I got to Collingwood, leadership for me wasn't there," he said.
"But Bucks has driven me a lot, throughout the last couple of years, to bring that to the group.
"I think every bloke has to bring that to the group and not just rely on blokes like Nick Maxwell or Scott Pendlebury to drive that."