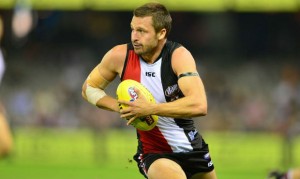 There is arguably no player more selfless at St Kilda than Jarryn Geary. Across 120 games in eight seasons, the former rookie has established himself as someone who lives and breathes the Saints trademark and is a player his teammates love running out with.
With Captain Nick Riewoldt in the twilight of his career, it would be no surprise to anyone inside the four walls of the Linen House Centre if the boy from Bendigo was the next leader of the St Kilda Football Club.
After a serious elbow injury sideswiped Geary's 2014 campaign, limiting him to just seven games, the 27-year-old returned with a vengeance last season, finishing fifth in the Trevor Barker Award in what was arguably the most consistent season of his career.
Renowned for his professionalism and work rate, St Kilda's defensive coach Rohan Welsh describes the highly regarded leader as the pinnacle of team orientated, as someone who yearns to make his teammates better, and therefore the team better.
"'Gears' brings everything to the back group. His aggression, his willingness to support his teammates," Welsh told saints.com.au.
"In terms of his running capacity, him and 'Newnesy' are probably the two best at the club. We know that he'll get up the ground and he'll work his opponent over and then he'll be able to get back and support his defence.
"Just the way he goes about everything, he's one of those guys who the rest of the blokes out on the field want to play with.
"He's really team orientated, he tries to make his teammate a better player, he's selfless, he does the hard things and he continually puts his body on the line.
"All the blokes that play with him just love playing with him because of that fact."