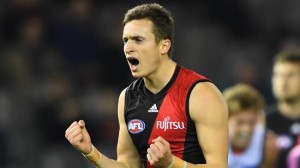 IT was the 60-second sound grab Orazio Fantasia wishes he could have back.
Just moments after kicking five goals in Essendon's Round 2 win over Brisbane this year, the young forward was put on the spot in a post-game interview.
Channel 7's Cameron Ling asked him for a few of his nicknames.
Nervous and searching for a quick answer, Fantasia responded with: "Yeah I've got Raz, or Razzle Dazzle, that's a few of my nicknames."
As soon as he said it, he had a gut feeling it hadn't come across in a manner he had intended. To this day, he wonders whether some people got the wrong impression that he had somehow called himself "Razzle Dazzle", which he most definitely has not.
So for the past four months, he has done everything in his power to try and shake the tag — even if many Essendon supporters delight in using that very moniker when talking about him.
Fantasia recalled the moment this week: "Lingy asked me my nickname and I said: 'Raz'. Then he said: 'Any other nicknames?' I just froze.
"A few of my mates call me 'dazzle' a bit, so it was the first thing that came into my head. As soon as I said it, I thought 'That is going to come back to bite me'."
Then he added quite clearly but with a smile: "I'm 'Raz', I don't call myself 'Razzle Dazzle'."
Fantasia exudes confidence on field. He celebrates some of his goals — "it's a natural reaction but it depends on how good they are" — with the sort of flair that football fans love.
He is also a self-confessed hyperactive character, whose upbeat nature and zest for life could sometimes be mistaken for overconfidence.
Maybe it has something to do with the way Brian Taylor rolls the vowels as he screams "Orraaaziiiooo Fantasia" whenever the young Bomber is in the general vicinity of the ball, which in fairness, has been quite often this season.
But the reality is that Fantasia is far from a kid getting ahead of himself.
He is actually a respectful 21-year-old, very mindful of his place within the club that has embraced him — and that he has embraced back — since he and Zach Merrett (at picks 55 and 26 respectively) were the two live draft selections out of what was meant to be the wreckage of Essendons' 2013 draft sanctions.
Beneath the confident exterior is a young footballer who realises he is on the right trajectory, but knows he has a long way to go, accepting that hard work and humility are the best navigators to where he wants to end up in the future.
"I am nowhere near where I need to be," Fantasia said ahead of Sunday's clash with the Western Bulldogs.
"I feel like I am improving, but I have still got a long way to go."
"I am loving my footy and learning all the time. I'm an enthusiastic person and always up.
"My mum would back me up on that one — as a kid I was always hyperactive and around the club now I'm the same.
"I might get on the nerves of some of the boys at times, but I don't see why there is any need to be down. I try and bring as much enthusiasm as I can."
He has clearly done that on the field in his 44 games to date. But he is also busy making an impression off it as well.
He is one of Essendon's two AFLPA delegates — Zach Merrett is the other — honing his leadership skills in the process.
He is also doing mentoring as part of the AFL's Ladder program, an organisation designed to help young people break the cycle of homelessness, and insists he is getting as much out of it as the young person he is working closely with.
It has given Fantasia greater perspective on how fortunate he is, coming from a large family of Italian descent in Adelaide and afforded the opportunity to play football at the highest level.
He has wanted to play AFL since he was a kid, evidenced when his mother, Anna, recently unearthed a piece of work Orazio did at primary school saying that he wanted to be an AFL footballer when he grew up.
On the field, Fantasia is making just as significant strides. After a breakthrough third season last year — where he played 19 games and kicked 29 goals, in a side without the banned Essendon players — he has taken his game to a higher plain so far this year.
"I probably wouldn't have played much footy last year (if it hadn't been for the bans)," Fantasia said of 2016.
"It gave a lot of us the opportunity to grow as players.
"But it is so good to have all the boys back now. It is a different environment around the place now. There is a real spark around the place."
Importantly, the Bombers are winning again. Fantasia won only four of his first 27 games. The ledger from his 17 games this year has been nine wins with finals now a distinct possibility.
He has kicked 36 goals so far this season, which places him third on the tally of general small forwards, behind only Adelaide's Eddie Betts (41) and Port Adelaide's Robbie Gray.
For someone only in his fourth season, and who tips the scales at around 75kg (more than 10 kilos heavier than when he played for Norwood in its 2013 SANFL Grand Final premiership success), it has been on some sort of rise.
While he grew up idolising Andrew McLeod as a passionate Crows fan, he now finds himself watching the likes of Betts and Gray to learn as much as he can from them.
"It's been pretty good in terms of numbers (36 goals), but that has only come off the back of how we go about our footy as a group," he said. "I try to model my game on players like Eddie (Betts) and Robbie (Gray).
"Eddie is different to most players, he is a little bit crafty and so is Robbie. If I can learn a few things off those guys and still keep my strengths, that's good."
Champion Data has rated Fantasia elite in goals, scoring involvements and marks inside 50m, and his forward half pressure points are above average.
He says the Bombers' small forwards, which this season has included himself, Anthony McDonald-Tipungwuti, Josh Green and others, want to be known for their retention of the ball in attack.
"Our role as small forwards is to bring pressure," he said. "If we can lock the ball in our forward line for a long period of time, we are going to score more off the back of that pressure."
"When you get drafted it is often on your ability to attack, but when you get into the AFL system, it is more about defence, and that's a different kettle of fish you have to learn."
Learning is something Fantasia loves to do.
He is a footy junkie and watches up to four or five other games a week, and takes notes on not only how others players go about it, but on things he can do to improve his own game.
In his first few years at Essendon, he lived for a time with teammate David Zaharakis, and later with Jobe Watson, watching their every move about preparation and realising how it was linked to their on-field performances.
He house-sat for Watson last year when the veteran was on his overseas break from the game, had dog-sitting duties with Watson's bulldog, Benson.
Watson, and Benson, have moved out to be with the veteran's girlfriend, but Fantasia is still renting the house out.
"It's great to have Jobe back (at the club) this year. I don't think I had played a lot of footy with him, maybe five or so games before, so to be able to play a whole year with him this season has been great," he said. "I've learnt so much."
The other lesson has to be a little more circumspect when it comes to post-game interviews.
ORAZIO Fantasia never got the chance to meet the man he was named after, but the connection between the two still makes the Essendon forward quite emotional.
His paternal grandfather — his Nonno — carried the same name, but sadly died, aged only 63, a few months before Orazio was born in 1995.
The original Orazio came from a little village just outside of Naples, in Italy, as did Fantasia's other three grandparents, who are fortunately alive and well in Adelaide, watching on proudly as he is making his AFL mark with one of the most recognisable names in the game.
"Having not known my grandfather, it is pretty hard for me," Fantasia said. "I still get emotional at times thinking about him, because he was pretty young when he died.
"It's special (to be named after his grandfather). For me, it is about making that name proud and making my whole family proud of what I am able to achieve.
"I'm fortunate that my other grandparents (Teresa, his grandfather's wife, and on the maternal side, Charlie and Maria) are alive and get the chance to see me play.
"I've been away for four years now and mum still cries every time I leave again. I don't miss Adelaide itself, but I do miss my family and friends.
"I come from a big family. Everything I do is about making them happy and proud. They call me after games and we try and speak as much as we can."
He is proudly Australian, but as he prepares to take the field for Essendon on Sunday in what is the AFL's multicultural round, he is just as proud of his family's Italian links.
Fantasia was born and bred in Adelaide, but hopes to one day travel to Italy with his parents, Pasquale and Anna, and his sister, Teresa, to visit the village where the original Orazio came from all those years ago.
"It won't be this year, but we'll definitely be going there at some stage in the future," he said.