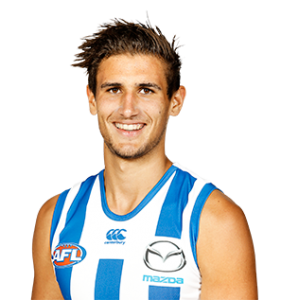 North Melbourne rookie Will Fordham models his game on Sam Gibson's and is aiming to dethrone the Roos' running man now that he has re-signed for 2016.
Fordham signed a one-year contract when he joined North at pick No.33 in last year's rookie draft and this week was rewarded with a new one-year deal after his consistently good form in the VFL with Werribee.
The former Sandringham Dragon told AFL.com.au he was "stoked" to have secured a spot on North's rookie list for 2016, and was already looking forward to going head-to-head with the Roos' undisputed time-trial champ Gibson next pre-season.
"I base my game really highly around 'Gibbo'. We've got the same sort of body type and the same sort of attributes – he's a very fit bloke and he plays on a wing as well," Fordham said.
"He's been really good at looking over my shoulder and telling me what I'm doing right and what I'm doing wrong.
"I had a knee arthroscope before the draft so I missed out on the pre-season time trials, but I can't wait to take Gibbo on next pre-season."
Fordham couldn't resist adding a light-hearted dig: "There will be a few bets on who's going to win next time. I'm backing myself in, I reckon I'll have him."
Fordham admits he felt the pressure of having just one year to prove himself at North and also initially found playing against hard-bodied men in the VFL a big step up from the TAC Cup.
But the wingman quickly found his groove with Werribee and has averaged more than 18 possessions in 15 games this year.
As a junior, Fordham prided himself on his ability to run his opponents off their feet by the end of games. That running ability has given him a good base for the VFL, but he's had to work on his kicking, contested play and defensive running.
Fordham is confident he's "getting there" on all three fronts, especially his kicking, which he says now is almost a strength.
"I can find the ball pretty well but I have to try to fix a couple of defensive things and the contested stuff, so I can be trusted by the coaches," he says.
"I've put in a lot of time on the track with the development coaches and I've come a long way.
"I'm a lot cleaner now and I'm really enjoying it."
Fordham is reluctant to set a target timeframe for his senior debut, preferring to focus on the process that should get him there.
"Once I fix up what I need to fix up, I'll be ready to go," he says.
"I've got to make sure I do everything I need to do, so I'm ready for that step up when I hopefully get the opportunity.
"And once I do go up, I need to make sure I'm ready so I don't come back down."