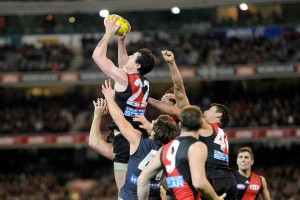 Jake Carlisle is over a calf injury and ready for a permanent place in Essendon's forward line, keen to use the knowledge he gained as a key defender last year to help him in a fresh role.
The 22-year-old missed almost a month of the pre-season after straining the muscle in December, but is back into full training and expects to play in the club's first NAB Challenge game next month against Gold Coast on February 17.
"Over Christmas I didn't get to do too much because I was obviously injured. I didn't have a great break, but I'm back now, refreshed and ready to go," Carlisle told AFL.com.au.
Carlisle has spent all his time before and after the injury with the forwards group under new assistant Nathan Bassett as he settles into his role as a target for the Bombers in attack.
It is not a position he is unfamiliar with; he was drafted to Essendon as a forward and kicked crucial goals in big moments last season.
But playing somewhere – and staying in the same spot – is something he is excited to take on after last year starting in the backline, pinch-hitting in attack, then mixing between both and losing form because of the constant swaps.
"'Bomber' reckons Michael Hurley is best suited back, and for myself, I'm a bit versatile so they've tried to push me forward and trying to use my marking and running ability up forward," he said.
"I'm looking forward to it, it's going to be a good challenge. It'll be tough, but in ways I think I can make it work to my favour.
"Starting the year and knowing that I will be playing forward is probably better as a mindset and better for my footy and my development. Whatever I do down back I know I can do in the forward line, and it is the toughest position on the ground."
Carlisle emerged as one of the most exciting key position players in the competition last year, playing 21 games.
At first it was as a strong, smart and skillful defender, where he used his reach and competitiveness to hold down a number of star forwards, including Fremantle's Matthew Pavlich, Collingwood's Travis Cloke and Richmond spearhead Jack Riewoldt.
By mid-year, with Essendon's forward structure struggling at times, he was moved there to have an impact and produced match-winning cameos against Carlton and West Coast.
At times he suffered because of it, wondering why he had been moved during a game, and those thoughts distracted him from the task at hand.
"It's easier to go into a season or a game knowing you are definitely going to start in one position because you can prepare yourself for the whole game," he said.
"It is a bit frustrating when you move halfway through, but it might be for the best. You might not be going well down back or in the forward line, and it's the same for 'Hurls'."
When training, Carlisle has often thought back to what some of his opponents did last year as key forward options and tried to replicate the same running patterns or techniques.
That education, coupled with watching vision of St Kilda champion Nick Riewoldt, who Carlisle played on last year, has given him a better understanding of what's required of a tall forward week-in week-out.
"I like to watch him (Riewoldt), but I also like to play on him because of the challenge and how hard he runs and where he runs to," he said.
"I was doing OK on him last year and then he got a few kicks in the backline. From then on he got himself into the game and I couldn't shut him out to be honest, and he finished a lot better than I did.
"That's going to come from experience. Another year in the system and hopefully that'll be me."
Source: http://www.afl.com.au/news/2014-02-01/carlisles-forward-thinking