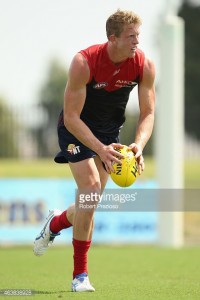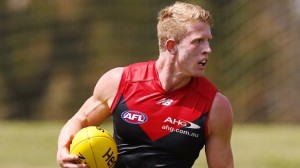 DEFENDER Sam Frost says he's growing in confidence each week, after an injury-interrupted start to the season.
Frost missed six weeks from the first JLT Community Series match until the end of round one with a toe injury, which he had suffered previously.
After playing two practice matches with Casey, Frost returned to the Melbourne side in round four and has since impressed.
Now, as he prepares for his 44th AFL game against Hawthorn at the MCG on Sunday (his 23rd with Melbourne after playing with GWS Giants from 2012-14), Frost said he was building belief in his game.
"I feel like I've been going reasonably well. I've been really happy getting my body right and getting through games," he told melbournefc.com.au.
"I've been working hard on a lot of my craft and positional stuff, and I feel like that's coming out in how I'm playing.
"I've been getting good feedback and there is plenty to work on still, but it's mostly been positive."
Frost said he had worked heavily on improving his skills during the pre-season and in recent weeks.
"I've been getting a lot of kicking in and a lot of decision-making and that's coming out in my game as well," he said.
"I'm definitely more confident with ball in hand than I have been in previous years.
"I feel a lot more comfortable using the ball and coming out of the backline."
After sustaining his injury, just as the matches were starting this year, Frost quickly set a goal to return by round four, which is what he achieved.
"I set myself a bit of a target to be back by then – it wasn't going to be the end of the world if I didn't get that target. Things ended up falling in my favour and I got back in the team when I'd hoped to," he said.
"Having that little end goal helped tick off a few things along the way. I was really happy with how it all panned out. I was actually a lot more positive this time than I have in the past, which might've been a maturity thing.
"There are definitely moments of doubt, where you think 'is this going to drag out for eight to 10 weeks or am I going to be OK after five or six?' But when you come in with a positive attitude, things tend to go a bit better.
"If you mope around and feel sorry for yourself, it's only going to make it worse. There were definitely a few moments of doubt, but the medical team did a really good job of managing my loads and building me back up to where I needed to be, which is paying off now."
Frost acknowledged the injury weighed on his mind in his first three games back – two practice matches with Casey and his first back in the AFL. But he hasn't thought about in his past two games.
"Against Richmond and Essendon, it didn't cross my mind to be honest, which is really good for me," he said.
"It was good to be really confident in the fact that I was able to get through without any issues.
"It's an ongoing thing with the podiatrist, physios and doctors – if anything comes up – but for the past two weeks, it's been pretty carefree to be honest, which is good."
Despite having played as a forward and pinch-hitting ruck, Frost is relishing his time down back, even though he remains open to playing other roles.
"I'm really enjoying the work I'm doing in the backline. I feel comfortable there and with how things are going with the list, if I do need to pinch-hit in the ruck, then it's not an issue," he said.
"It's been really good for me just to have simple goals that I can focus on. Keeping it simple has been really good for me and my improvement."
Although Frost was part of the Melbourne team that ended a 10-year losing streak against Hawthorn at the MCG in round 20, last year, he said the red and blue was ready for another big challenge this Sunday when the two sides meet.
And although the Hawks have notched up a 1-5 win/loss record so far this year, Frost said there was no chance Melbourne would take the brown and gold lightly.
"We'll prepare for the Hawthorn of the last few years and we'll see what they dish up, and we'll prepare like we're getting the best version of them this weekend," he said.
"They still have so much experience and although their season is not panning out how they'd liked, you can't go into a game against a group like that and think it's going to be a win – just because of how they're going.
"It is an interesting time – a few teams aren't going as well as what people predicted, but it should be a good game."