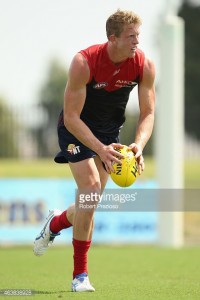 VERSATILE big man Sam Frost says he's confident he'll be right to play in the NAB Challenge matches, after his first year at the club was ruined by an ongoing toe injury.
Frost, who played three matches for Melbourne in 2015, after playing 21 games with GWS from 2012-14, said he was building strongly after he was continually troubled by his injury last year.
"I'll hopefully be in full training for when we get back to Melbourne, ideally," he told Dee TV on day eight of the club's pre-season camp on the Sunshine Coast.
"I should be definitely right to go by intra club and pre-season games, so whether I'm introduced back in [full training] a little bit [more] over the next few weeks, I'll be right to go by game time."
Frost acknowledged it was a frustrating injury, but he was philosophical about the setback.
"Last season, it dragged out a bit and pre-Christmas I was getting a little bit of soreness around the same area, so they pulled me back a little bit and [I'm] just getting back into it now," he said.
"It's been pulling up well and feeling good during sessions, so we're pretty happy with where it's at, at the moment.
"Every player goes through some injury at some stage in their career, so it's something that you use as an experience and gain a bit of perspective. It's not all negative, but it's definitely frustrating."
Frost said the camp had been a great opportunity to bond with the squad, particularly the new players.
"It's been great. It's always good to have the group together for a week or so to get to know each other better," he said.
"Some boys have known each other for years, but having the new recruits come in and get some real quality time with each other and build relationships [is important].
"That's what we came here to do – to consolidate our game plan and I think we'll probably give that a tick when we review back down in Melbourne. It's a great camp for the boys and it should hold us in good stead going into the season."