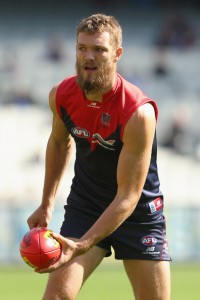 MELBOURNE ruckman Max Gawn is as genuine a character as you'll come across.
He's got the lumberjack (slash hipster barista) beard and the hulking frame, but he speaks with the refreshing candour of a kid just playing footy because he loves it. And while it can easily be lost in the realm of professional sport, he makes sure to have fun.
That childlike thirst for amusement was never more evident than in Monday's win over Collingwood at the MCG. Lining up for a centre bounce late in the first quarter when the Pies held a slender 21-16 lead, umpire Matthew Nicholls' bounce went astray. Nicholls blew his whistle when the ball was in mid-air, clear it was going to sail outside the centre circle and have to be re-taken.
The Sherrin flew closest to Gawn who, with a booming right fist, smashed the ball a good 15-20 metres away back in the direction from which it came. He did so with a cheeky grin hidden behind those impressive bristles, but the umpire wasn't nearly as amused.
Nicholls held both his arms out — imitating an irritated school teacher — and let Gawn know he wasn't impressed with the behaviour.
"What did you have to do that for?" Nicholls said, his facial expression not doing anything to hide his annoyance.
Nicholls only had himself to blame, really, with such a poor bounce, but Gawn certainly didn't help his cause.
Who'd be an umpire, hey?
Gawn taught Collingwood's ruckmen a lesson and led Melbourne to an outstanding 46-point win. The 16.8 (104) to 8.10 (58) win was another milestone for the improving Demons, who beat the Magpies in their annual Queen's Birthday clash for the first time since 2007.
Gawn has gone from Melbourne cult figure to one of the game's top ruckmen this season and on Monday he won the Neale Daniher trophy for best afield.
He racked up 31 hitouts, 27 possessions and three goals, clearly beating Collingwood's Brodie Grundy and Jarrod Witts.
The Magpies tried to stretch Melbourne by bringing Witts into the side to add height, but Gawn was by far the best big man on the ground.
"It was probably the lack of impact in the ruck that hurt us more than anything else," said Magpies coach Nathan Buckley. "What the intent was, was to try and work Gawn over — I think it happened the other way.
"He's schooled a few of our boys in that process." While Bernie Vince tore through the midfield with 42 possessions and Tom Bugg shut down Magpies runner Steele Sidebottom, Gawn set the agenda with his ruckwork.
"He was all over the field today, wasn't he?" said Demons coach Paul Roos.
"It was a very, very good effort.
"That's an elite game for a ruckman … certainly his graph is going in the right direction."
The Demons improved to 6-6, just outside the top eight and facing a massive game next Sunday against Sydney at the SCG. Roos acknowledged it was a big day for the club as they progress from cellar dwellers to finals aspirants.
But he said it was far too early to think about finals.
"We think we're growing as a footy club, we think we're getting better," Roos said.
"But you have to win some games along the way.
"Clearly when you've been through a patch that we've been through over the last six or seven years, you're going to have to break some hoodoos in order to get better." Next Sunday will be the last time Roos coaches against his old team.
The Magpies limp into their bye round with a 4-8 record, their legitimate hopes of a finals return this season shot.
"When we've come to play, we've looked alright," Buckley said of their misfiring season.
"When we haven't, when we've been a little bit off, you can see how tough this game is.
"The weight of numbers has hurt us at times.
"We're just too inconsistent at the moment." Collingwood captain Scott Pendlebury appeared to hurt his foot, but it is understood the injury is not serious.