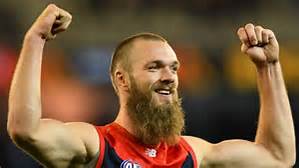 MELBOURNE ruckman Max Gawn says he has no problem with teammates taking their safety concerns directly to their union rather than the leadership group, after a player-led push saw the Demons' pre-season camp cancelled last month.
A commando-style "torture camp" was due to run for the second straight season in December, but some Demons approached the AFL Players Association in the lead up to discuss their concerns.
Their worries were eventually raised with Melbourne's leadership group as well, leading to the cancellation of the camp, which saw players sleep for 30 minutes across 72 hours last pre-season.
"The camp was in place and the players had concerns about it, but unfortunately the players probably took a bit of a long time to get those concerns out," Gawn told SEN on Tuesday.
"The concerns were around player wellbeing, injury and so on. Players had lost a lot of weight off last year's camp and there were a few young guys who had just built up their weight.
"Those concerns weren't raised, that was the problem early on. Then it took about a month, and those concerns were raised.
"The leadership group is a representation of the players, and we went and spoke to 'Goody' (coach Simon Goodwin) and from there on the camp got stopped."
Gawn said the Demons' leadership group was told by the AFLPA that players had already raised their concerns about the camp with the union body, which had no role in the decision to cancel the camp.
"That's not a problem in my eyes. That's what the Players Association is there for," the star ruckman said.
"They (the players) are probably doing it thinking that no one's going to know about it, because that's what the Players Association is for, to talk away from everything else.
"At first when I heard it, I thought, 'Well maybe they don't feel comfortable with us?' We're a core group of 25-26-year-olds in the leadership group, and an 18-year-old might not feel comfortable as of yet to talk to them.
"(But) personally, if I had a problem I might go to the PA as well."
Gawn said he would understand if coach Simon Goodwin felt the players had "stood up against" him, but conversations between the leadership group and the coaches had been positive.
A slimmed down Gawn also spoke about his dramatic off-season weight loss, which was inspired by the Demons' deflating end to the season.
The 2016 All Australian said he was inspired to complete a fanatical fitness program during his holiday period, losing eight kilograms.
He has since added three to four kilograms back on after feeling concerned that he would be too light to play, but recent testing had confirmed he had not lost any strength.
The big man said exciting half-forward Christian Petracca had also made excellent progress this summer with his running, wiping 35 seconds off his personal best 2km time.
"Thirty-five seconds in 2km world is actually a lot of time," Gawn said.
"He's kicking the ball really well, he's trained almost every session. I'm backing him in to have a pretty good season."
Gawn said key forward Jesse Hogan had been another standout in the Demons' running drills, opening the possibility he could play midfield minutes in 2018.