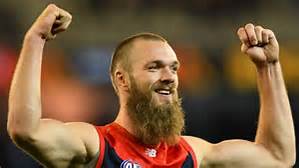 MAX Gawn knows the target that was on Todd Goldstein's back this year will be on his next season.
Goldstein established himself as the AFL's No. 1 big man in 2015 but the North Melbourne ruckman couldn't maintain the same level this year. As opponents made stopping him a priority, Goldstein's SuperCoach average fell from 129 to 108.
His title was taken by Gawn, who surged from a 102 average in 2015 to 118 this year. But he knows there's no guarantee he'll stay ahead of a rising group of young rucks.
"You saw what happened with 'Goldy' this year. Everyone was working on how to beat him and they ended up hurting him a couple of times," Gawn said.
"I like the battle and there's a lot of good young ruckmen coming through now. Brodie Grundy and Tom Hickey are two guys who will challenge me and they'll be there for the next 10 years as well."
One tactic used heavily against Goldstein this season was a third player going up in the ruck, and Gawn now has one of the best in the business on his team in former Hawk Lewis.
"Hopefully he doesn't second jump all the time, like he did at Hawthorn. I'm sure (Ben) McEvoy and (Jon) Ceglar weren't too happy with him," Gawn told the AFL website as he made coffees as the guest barista at the launch of the Melbourne Cup.
"I'll sit him down early and tell him, 'Don't worry about going third man up, mate'."
Gawn said the addition of Lewis would help push the Demons into finals contention.
"He'll add some experience, some class, leadership, all sorts of things, which is good.
"I want to take our midfield even higher. We've got Jordan Lewis in there now, which is exciting and hopefully we can take those steps up the ladder.
"We beat teams that played finals this year and we got close to the Western Bulldogs, who ended up winning the flag.
"We can beat the teams who are good enough to play finals; we've just got to get there."