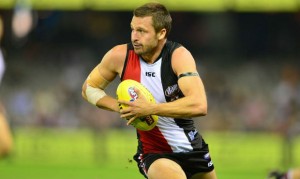 Defender Jarryn Geary will captain St Kilda for the first time in an AFL match on Saturday.
The 26-year-old, who has played 103 games for the Saints since debuting in 2008, will assume the responsibility for the historic occasion in Nick Riewoldt's absence.
Alan Richardson said Geary thoroughly deserved the opportunity to lead St Kilda onto Westpac Stadium on Anzac Day.
"We deliberately didn't name a vice-captain at the start of the year so that we could potentially expose some of our other leaders if the opportunity presented itself," Richardson told SAINTS.com.au.
"In the absence of Roo and Joey, David Armitage did it last week for us and did a great job. Jarryn is a very impressive leader who will do a great job for us."
2014 was Geary's first year in the leadership group, but after breaking his arm in his 100th game in round seven, the former rookie-listed player has worked his way back to full fitness and remains an integral part of St Kilda's defensive unit.
"Gears is very good when it comes to the example that he sets and the position that he plays," Richardson said.
"He is also really strong with the way that he communicates with his teammates. He's incredibly encouraging and supportive, and can be quite challenging at the right time."
Richardson said he expects his entire leadership group to set a strong example against Carlton.
"They need to inspire their teammates with the way that they perform, particularly given our young group," he said.
"They need to challenge and be strong with their communication and motivate their teammates."
Geary previously skippered the club in a NAB Challenge game against Essendon in Morwell during the pre-season.
Riewoldt is expected to return to the field for St Kilda's round five clash against Essendon at Etihad Stadium.