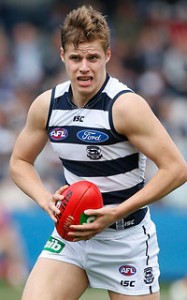 EDDIE Betts one week, a Jack Gunston-type the next.
That's the mixed bag of opponents Jake Kolodjashnij is preparing to combat this year after revolutionising himself under the close eye of Matthew Scarlett during pre-season.
Not only has the 193cm defender stacked on upper body strength over the summer to compete against the power forwards, he has sharpened his agility and speed for roles against the opposition's mosquito fleet.
The 20-year-old has spent more time on Steven Motlop and Nakia Cockatoo this pre-season than any of the key forwards and has clocked personal-best times in sprint testing.
"They're good guys to practice on, really dashing, quick players, good front and square," Kolodjashnij told the Geelong Advertiser after another gruelling session this week.
"I want to be pretty versatile, so I'm working on talls and smalls — that's what (assistant coach) Scarlo has told me to do, so that's what I'm focusing on.
"It's going to be a new experience for me this year. I could be on Eddie Betts (173cm) one week and on a tall the next, so it will be a good, challenging year."
It is the type of versatility that will give Kolodjashnij a distinct point of difference in a top-heavy defence of Harry Taylor, Tom Lonergan and boom recruit Lachie Henderson.
The Cats seem him as a long-term member of the back six and last year signed a two-year contract extension after being aggressively pursued by rival clubs.
Kolodjashnij's bona fides as a mobile option were underscored last year with a breakout performance on Sydney champion Adam Goodes in only his fifth game of league footy — a night where the nation's focus zeroed in on the under-siege Swans veteran amid the booing controversy.
"It's going to be tough for spots, that's the thing," Kolodjashnij said.
"Hopefully I can actually crack the side and play some good footy and have a role in the team.
"But it's going to be tough for spots, everyone is training well, so it's about being pretty versatile.
"I think with the acquisition of Hendo, and of course we have got Harry and Tom Lonergan down there, I reckon I'll have to adjust my game a little bit and be able to play on those smaller types.
"So I'm looking forward to the challenge."
Despite Geelong's audacious off-season recruiting, and an admission from club powerbrokers that a top-four finish is a must after luring Patrick Dangerfield, Scott Selwood, Zac Smith and Henderson, Kolodjashnij says the Cats' improvement is as much dependant on those who were already at the club.
The likes of Mitch Duncan, Josh Caddy and Cameron Guthrie are moving into the prime ages of their footy careers, Jackson Thurlow doesn't have the same injury issues as last pre-season and Darcy Lang will have to fight just as hard if he wants to play another 20 games this season.
"We've got to grow as well, it's not up to the recruits," he said.
"We've got to carry the team and we've got to improve as well to help the team move forward and hopefully the team can have some success.
"Having had a taste last year, it's really driven me to stay in the team now and develop my game in the ones and just do everything I can to stay there.
"I'm working on my deficiencies and putting my best foot forward."