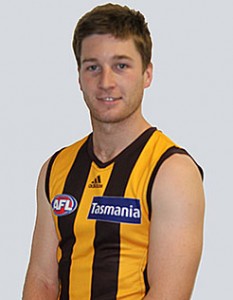 What kind of player are you: I'm probably more of an outside midfielder who can play a bit inside and have stints on the wing, half forward and back. I can play a few different positions.
What are your strengths: I'd like to think it's my pace and my run and carry with the footy and ability to break the lines.
What can you work

on:

Probably my inside contested ball work and my strength and conditioning.
Team supported growing up: Sydney. My whole family was Sydney because my Grandfather used to play for South Melbourne.
Childhood or current sporting hero (non-AFL): Tom Brady, the Quarterback from the New England Patriots.
AFL hero: My favourite player used to be Paul Kelly from Sydney.
Player you believe you play like most: Coming into the system I grew up playing with Dale Thomas and tried to model my game a bit on his and I still think I have some aspects of that.
Favourite food: Chocolate
Favourite meal: Spaghetti Bolognese
What is your pump-up song before games: Eminem – Lose Yourself
Favourite band or performer: Probably Coldplay
Best band or performer you've seen live: Coldplay
Favourite TV show: Seinfeld
Favourite character in a TV show and why: George Costanza. He's hilarious
Do you have any hobbies: Not too many. I do like to play a bit of golf and I'm studying part-time. I also like to catch up with friends and family.
What is your favourite thing to do when you're

at home:

I don't mind turning on the Play Station and playing NBA or FIFA.
Favourite movie and why: Anchorman. Any Will Ferrell movie is high up in my ranks
Ideal holiday destination: New York. I've been there a few times and I absolutely love it.
Chocolate or vanilla: Chocolate
Fruit or vegetables: Vegetables
iphone or Android: iPhone
When the season is over, which food to you go for first: Chocolate
What are your goals for 2014: To have an injury-free pre-season and put my head down and work hard and then hopefully get a spot on the senior list from the rookie list if that opportunity comes along. If not, then I want to play good footy for Box Hill.