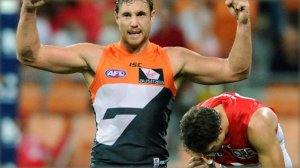 The ruckman nicknamed 'Mummy' is relishing the unfamiliar challenge of being a father figure to a load of younger new teammates and proving he can still cut the mustard at AFL level.
Shane Mumford, one of Greater Western Sydney's handful of veteran recruits, is enjoying being a leader and mentor.
The big man was praised by Giants coach Leon Cameron for his 'big motor' after doing the vast majority of their ruck work and scrapping hard to the end of their memorable upset win over the Swans on Saturday.
One of the players squeezed out of the Swans so they could afford to recruit Lance Franklin, 2012 premiership player Mumford showed he still has plenty to offer despite being increasingly afflicted by injuries.
"I think I just wanted to prove that I could still play good footy," Mumford told AAP after being asked whether he had tried to prove something to the Swans.
"As everybody knows, I've had a lot of trouble with my body over the last few years.
"To just be fit and healthy and flying into round one, I just wanted to go out there and prove I could still play at a high level."
He has gone from one of the oldest lists in the AFL to the youngest, which means he has taken on more of a mentoring role than he ever had to at the Swans.
"It's something I've really had to work on since coming here, because it's not something I've really done before," Mumford said.
"Having had Adam Goodes, Jude Bolton and guys like that around (at the Swans), there was no need for me to speak up and take more of a leadership role.
"I've gone from being mid-range to one of the oldest blokes at the club.
"It's something I've really had to work on and it's something I really enjoy and I think it's actually going to benefit my footy a lot, becoming more of a leader on and off the ground.
"To guide these young kids, or help push them in the right direction on and off the field, it's a massive challenge for me."
Last Saturday Mumford was directly opposed to Canadian Mike Pyke – the man who he shared the rucking duties with at the Swans.
"I enjoyed the challenge of going up against Pykey," Mumford said.
"I knew it was going to be a hard tough game. He's a big, strong man that competes really well.
"I knew I had to be at my best and it definitely took that to get over the top of him."