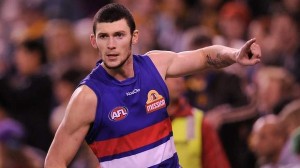 From career-best form to the rehabilitation group, Jarrad Grant has seen highs and lows in the past nine months but the forward is making steady gains towards a senior football return.
Increasing his match fitness over the past two games at Footscray in the VFL, the 24-year-old has successfully transitioned back to playing, after injuring his foot in January this year.
"It's been good getting back out there with all the boys and having a run around," Grant said.
"I played three quarters two weeks ago and obviously we had a bye last week and then to play four quarters this week was good.
"Just to run around and get a kick and be involved has been fantastic."
Grant's offering forward of centre has been immediately felt at the Footscray Bulldogs, with his creativity and athleticism adding a point of difference to the forward line.
The biggest adjustment from injury rehabilitation to game time for the forward has been regaining awareness of the opposition and reintroducing the physical component to the game.
"Just the fact that there are 36 people on the field and when you are doing rehab alone – obviously it's a bit of a lonely time," he said.
"Just your surroundings and obviously people can tackle you and your peripheral vision, that's the one thing that's really hard to keep up when you are in rehab."
While Footscray have a bye this weekend, the 24-year-old has been working hard on the track to press his claim on senior selection.
"I've just got to consistently play well and do what the coach is asking and hopefully my time will come that Mac [will put] me up in the firsts," he said.