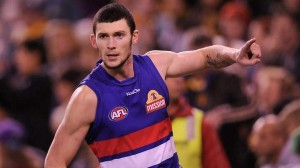 Jarrad Grant has re-signed with the Western Bulldogs, just a few months after his career at the club seemed to have stalled.
Grant has signed a two-year contract to remain in red, white and blue, after discussing a trade to Brisbane with the Lions last week.
The enigmatic forward spent time in the VFL reserves on his way back from injury early last season, and wasn't selected in the senior Bulldogs side until round 16.
From there, the 24-year-old kicked 13 goals in eight games, finding the best form of his six-year career.
The Dogs viewed Grant as an important part of the multi-faceted forward line they are trying to build.
While he met with the Lions last week, Grant was always inclined to stay with the Western Bulldogs and decided to accept the club's upgraded offer.
Bulldogs list manager Jason McCartney said Grant had worked hard in the last half of the season to turn his year around, and that coach Brendan McCartney had helped the former No. 5 draft pick find his spot in the side.
"Jarrad wasn't setting the world on fire early in the year, even at VFL level, but a lot of people at the club held on to the belief that he might be a better player in a better side," he said.
"He's got genuine talent, we know that. His footy smarts are of a really high quality, and we were playing better when he came back into the side.
"We were starting to generate a lot more forward 50 entries, so that helped him go to work.
"The coach put a lot of faith in him, and full credit to Jarrad for being able to work hard to turn things around. He certainly resurrected his career in those last eight games."
Grant was the Bulldogs' first choice in the 2007 draft, and has played 58 games since the club selected him