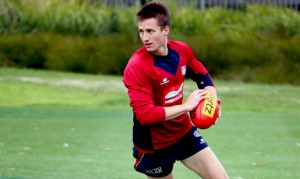 Jack Grimes says he's feeling good about making the decision to relinquish the co-captaincy for the 2015, after three seasons in the position.
Grimes said captain Nathan Jones had been very supportive of his decision and after stepping down officially on December 1 last year, the defender said he was content.
"It was probably something I thought about a bit over the off-season," he said on day 10 of Melbourne's pre-season camp at Maroochydore.
"I purely wanted to get my playing performance back to the level I think it should be.
"Whether that was meant I was captain or not, I had to think about that a lot. Now, I don't expect much to change in a leadership sense from my point of view. It probably is taking a little bit of that burden off.
"So far it's sitting really well with me, even though it was a tough decision and not one I took lightly at all, but so far so good."
Although Grimes "broke the snoz" the other day, he said he hadn't missed a session this pre-season.
"I'm feeling really good. I'm feeling really energized and ready to go," he said.
And he said the camp had been extremely positive for all involved at the club.
"It's been tough and it's been hot, but we've had a few really good sessions out here. I think we've got out of it exactly what we wanted to," he said.
"We've had a great time up here."
Grimes said he had seen the building of relationships go to another level during the camp.
"There are guys that might've been at the club for three or four years that you get to know a lot better after being on a camp like this."
"So there is that side to it and then the physical side – it's hot and humid – and you've got to train and perform under testing conditions and keep backing it up.
Looking ahead to the season proper, Grimes said there was "no reason why" the club shouldn't be aiming for finals in 2015.
"We feel like we've come a long way already over the pre-season and we know we've made some improvements last year, but we still have a lot of work to do," he said.
"So far this pre-season, we think – why shouldn't it be the goal for us and it has been and it will be."